Meryl Streep Told Me Something Every Young Creative Person Needs to Hear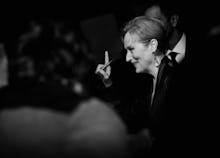 When Meryl Streep gives you life advice, you listen. 
I've been to enough screenings and events where the promise of a celebrity is dangled in front of fame-hungry mortals to attract a larger turnout. But most often, said famous person's obligation is fulfilled by walking past the crowd to use the bathroom and then leaving. You don't end up seeing any evidence of them, let alone talking to them.
So when I got invited to the documentary prescreening for Song of Lahore, which was supposed to be attended by the titan Streep, I never imagined I'd see her, let alone share a tête-à-tête in a quiet corner. 
I entered the intimate screening room to discover most of the seats were already taken. Yet I couldn't help but notice there was an empty spot next to two seats adorned with signs which read, in appropriately dramatic capital letters, "Reserved for Streep." 
No one had dared. Did I dare? I have a tendency to make an ass out of myself with noncelebrities, so I reckoned that might as well manifest itself in my attempt to become Meryl's BFF. I sat down in the empty seat adjacent to the Streep camp, and Meryl and her artist husband, Don Gummer, entered a few minutes before the film began. 
Holy shit, I thought as she chose the seat next to mine. Do I move? Do I smile? Do I ignore her? The lights dimmed and our arms brushed on the armrest. I had a physiological reaction tantamount to anaphylactic shock. This was going well.
It was at the reception afterward that Streep fell in love with me — or so I'll tell myself. She was standing behind me in the dimly lit corner of a small lounge at the Crosby Street Hotel. As people filled the room, I overheard her conversation with a friend had stalled. Now or never.
Palms sweaty, heart racing, feigning (rather unsuccessfully, I calculated later) nonchalance, I turned to Streep: "I'm so sorry to interrupt, but I would admonish my future self if I didn't tell you I adore you." Spoken like a true sycophant. 
To my surprise and confusion, a smile broke across her face and she invited me into the conversation, asking me what I thought of the film. It was a documentary chronicling a Pakistani orchestra's journey to New York's Jazz at Lincoln Center, where the orchestra collaborated with Wynton Marsalis and his band, offering a South Asian interpretation of American jazz classics. I told Streep how happy I was, as a half-Pakistani, that the film was exposing the world to Pakistan's rich cultural heritage, presenting a human face to a country so often misunderstood. 
Pakistan is a country of 185 million people, most of them doing their best to survive amid the social and political volatility stirred up by a minority of extremists. I've written about my experience working there in 2014 — I even took a one-woman show about going on a lesbian Tinder date in Karachi to the Edinburgh Fringe Festival in August — and I talked to Streep about my work as a journalist and playwright, attempting to create a window into Pakistani daily life in the hopes of making it more accessible.
Streep told me theater and journalism complemented each other perfectly.
"I'm deeply conflicted," I said, "because I love doing both, but I don't feel like I have the bandwidth." I told her I felt like I was on the verge of a nervous breakdown for the three months leading up to the Fringe. I had worked a full-time job, written the play at night and rehearsed with my director on the weekends.
Her response was the only part of the interaction I remember with real clarity. 
"You don't have to choose," she said. "You can do both. You should do what you love. They're merely different forms of storytelling, and at the end of the day, that's what connects us all."
While it may sound obvious, I hadn't thought of my life and work that way before. In the immortal words of Winnie the Pooh, "I am a bear of very little brain." I figured those two parts of my life were separate paths, compatible for the time being, but which would invariably lead to a fork in the road, partitioning my creative and professional pursuits. I had a binary approach to the question of what I should truly commit myself to. 
Maybe I don't have to make that choice — or rather, maybe I already have. 
The majority of young, artistic types in my world have a day job to feed the mouth and their creative project to feed the soul. Thankfully, my day job also provides the kind of intellectual stimulation I crave and need, which theater doesn't always allow for. Either way, I don't believe my expectation of being confronted with a choice at some point — and the fear that I'll opt for financial stability — is unusual. 
Perhaps I've been getting it wrong, though. Perhaps it's not so much about becoming what one loves as much as it is about just doing it.
For more useful life advice in your email inbox, sign up for the MicCheck Daily newsletter.