Watch This Hilarious Video on Consent From the White House and College Humor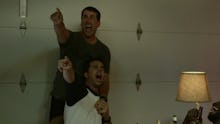 The White House's "It's On Us" initiative teamed up with CollegeHumor to release a priceless video on Thursday, which amassed more than a quarter million views in under 24 hours. The video, "What if Bears Killed 1 in 5 People?" applies the statistics associated with sexual assault to being eaten by a bear.
"Guys, this angry, hungry bear in our house is a big problem," the YouTube post reads. "You wouldn't put up with that. So don't put up with this. One in 5 women will be sexually assaulted by the time they finish college. Do something about it. Take the pledge at itsonus.org."
The video stars New Girl's Jake Johnson and Lamorne Morris, along with Steve Berg, Rob Riggle and David Walton, and is directed by Max Winkler. 
The scene unfolds with five dudes just man-cave-chillin', when Riggle goes to grab a beer. Upon opening the cave door, Riggle is confronted by an angry bear. He is, as most people would be, slightly distressed by the situation.
Johnson: "Oh, that's just a big, angry, hungry bear. Just pretend it's not there."
Walton [screaming]: "That means one of us is going to be eaten."
According to a Department of Justice report from December, it is estimated that 1 in 5 college women will be raped or sexually assaulted. "I'm a student who lives on this campus feeling unsafe every day," Elisabeth Dee, a junior at Stanford University, told Mic.
Similar statistics apply to the wider population. Approximately 20% of women in the U.S. will be raped during the course of their lives, according to the National Sexual Violence Resource Center, and for 10% of women, the attack will come from an intimate partner.
Aside from the unquantifiable emotional toll, the country collectively suffers from the social epidemic economically too. "Each rape costs approximately $151,423," NSVRC writes. "Annually, rape costs the U.S. more than any other crime ($127 billion)."
There have been myriad initiatives and campaigns to address the problem. One popular Tumblr post, for example, challenges those who complain asking for consent before sex ruins the mood, instead arguing it can be incredibly arousing. 
In September, the White House released another video as part of "It's On Us." In it, celebrities, including Zoe Saldana and Josh Hutcherson, explain that sex without consent is not sex: It is rape.
These videos are a far cry from stilted and stale after-school PSAs and they appear to resonate with the public, given the viral response they've garnered. 
The absurdity of likening sexual assault to being eaten by a bear underlines just how absurd society's relative inaction is about such a widespread crisis.