'Master of None' Netflix: Trailer, Release Date, Plot, Cast for Aziz Ansari 2015 Series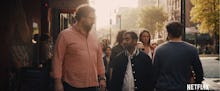 It's a side of Aziz Ansari fans of his comedy specials and standup performances have never seen before: Netflix produced an original series with the comedian as the main character, titled Master of None, available Friday via the streaming service. 
Ansari plays Dev, a 30-year-old actor living in New York City struggling with career choices, relationships and choosing what to eat for breakfast, among other decisions. A trailer for the show was posted to Netflix's YouTube channel on Oct. 22.
All 10 episodes of the show's first season became available for binge-watching on Friday. Although Master of None is the first Netflix series in which the comedian and actor stars as the lead, Ansari isn't exactly new to Netflix: the 32-year-old had his own 'flix comedy special, titled Aziz Ansari: Live at Madison Square Garden.
The cast includes Ravi Patel, Kelvin Yu and H. Jon Benjamin, as well as some of Ansari's true family members, Fatima and Shoukath Ansari, according to IMDb.
Correction: Nov. 6, 2015