Watch Adele Perform 'Hello' Live in TV Special for BBC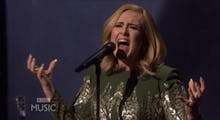 The time has finally come for Adele to reemerge into the spotlight following the massive success of "Hello," the first single from the British songstresses forthcoming album, 25. A preview from the singer-songwriter's hour long special, Adele at the BBC, became available on the publication's website Thursday.
The full performance will be available for streaming via the BBC beginning Nov. 20, and the first look of the performance seems promising. In the upcoming special, Adele performs "Hello" for the first time, which can be seen in the BBC trailer, and discusses her life, her career and the artist's passion for music and writing albums. 
The 27-year-old powerhouse vocalist sounds nearly identical to the album's version in her raw performance, and gives a candid interview with U.K. TV host Graham Norton. Check out the trailer for Adele at the BBC below: