Coldplay Just Shared the Details and First Single off What Might Be Its "Final" Album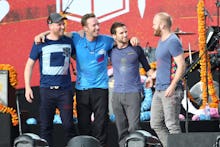 Last year, Chris Martin warned fans this day would come, using an apt Harry Potter metaphor. "It's our seventh thing, and the way we look at it, it's like the last Harry Potter book or something like that," he told the BBC, discussing the album he was only beginning to conceptualize then. "Not to say that there might not be another thing one day, but this is the completion of something."
Friday, Martin shared the details of  that final album, and it seems like the band is looking to pull out all the stops. The band describes the album, which it's calling A Head Full of Dreams, as "bursting with energy, color and big, life-affirming moments." The album's cover, which the band shared via Twitter in gif form Tuesday, reflects it in a big way, as does the first single, the hypnotic and dancey "Adventure of a Lifetime."
It's a sharp redirection from the group's previous album, Ghost Stories, which was relatively stark, cold and synthetic. Rolling Stone described it as a "break-up LP," a fitting soundtrack for Martin's "conscious uncoupling" with his now ex-wife Gwyneth Paltrow. 
According to the lyrics of "Adventure of a Lifetime," Martin and the group are feeling alive again. "I can feel my heart beating," he sings over the song's vibrant disco palette. "Cause you make me feel that I'm alive again!"
"It's the sound of us being free and happy and very grateful to be in our group," Martin told the BBC. 
The album is also set to feature collaborations with Noel Gallagher of Oasis fame, Tove Lo and Beyoncé, alongside whom Coldplay performed during September's Global Citizen Festival. Listen to the first single off A Head Full of Dreams below, and look for the album Dec. 4: