The 'Star Wars: The Force Awakens' Trailer in Asia Features Way More Footage — Watch Here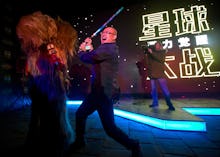 Star Wars devotees are anxiously awaiting the release of the latest addition to the intergalactic epic, Star Wars: The Force Awakens, scheduled for release in the United States on Dec. 18. On Friday, Star Wars fans collectively fell out of their chairs when the Asian version of the film's trailer hit the Internet, boasting unseen footage not available in the American preview.
Indeed, the Asian trailer of the long-awaited film from J.J. Abrams, the director behind the recent Star Trek movies and the popular TV show Lost, gives fans more dialogue and more droid time than its American counterpart.
Star Wars fans in the U.S. caught first sight of the Star Wars:The Force Awakens trailer in October, when the preview premiered during a Monday night football game on ESPN. The Asian version of the trailer, which is screening in English and includes subtitles, features new footage of the droid BB-8, whose miniature version hit store shelves in September. In the alternate version of the preview, BB-8 even gets a line or two. 
Here's the trailer that's screening in Asia:
The Force is strong. In the lead-up to its Dec. 18 release, Star Wars: The Force Awakens hype continues to dominate the social media sphere. The Reddit community has been keeping tabs on plot leaks and spoilers both small and large, and Twitter users will not be silenced. The film's online visibility only intensified this week, thanks to one fan's viral story.
On Thursday, Star Wars super fan Daniel Fleetwood of Houston got to see Star Wars: The Force Awakens in full ahead of its release. Fleetwood has a rare form of cancer, and doctors have said he may not have much longer to live. Using the hashtag #?ForceForDaniel, Fleetwood supporters used Twitter and Facebook to help raise awareness for the cause and make Fleetwood's wish of seeing the film before he dies a reality.
According to a Facebook post by his wife, Ashley Fleetwood, Abrams called the couple to offer him a private screening.
"Daniel's final dream was just granted!!!" Ashley Fleetwood wrote in her post. "Today the wonderful Disney, Bad Robot and Lucasfilm teams made his final dream come true: Daniel just finished watching an unfinished version of Star Wars: The Force Awakens!!!"
Barring any other expanded trailers or plot leaks, everyone else in the U.S. will have to wait for Dec. 18 to see the film in full.