Who Is Rachel Maddow? A Quick Guide to MSNBC's Democratic Forum Moderator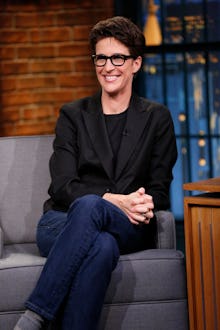 Rachel Maddow and MSNBC are switching things up for their Democratic forum with presidential hopefuls former Secretary of State Hillary Clinton, Vermont Sen. Bernie Sanders and former Maryland Gov. Martin O'Malley. The forum, titled "First in the South Democratic Candidates Forum," airs on MSNBC Friday night at 8 p.m. Eastern and will essentially be a series of interviews between Rachel Maddow and each of the Democratic party's three top-polling candidates.
"My guiding principle on these things is I try to ask questions that I can't predict the answer to," Maddow told Charlotte Observer in an interview published Wednesday. "I want to get them off of their talking points, off of their stump speeches, out of their comfort zone."
Although the MSNBC interviews are not part of the official Democratic National Committee's 2016 presidential primary debates, the interviews will provide viewers with a better chance to learn more about the three candidates and where they stand on the issues. Some audiences will also meet the moderator, Maddow, for the first time.
Who is Maddow? The MSNBC anchor and TV personality is one of the network's best-known pundits thanks to her work on The Rachel Maddow Show. 
The 42-year-old anchor and Stanford University graduate has been an MSNBC host since 2008, when the debut of her show broke records for being the network's most-watched first episode, according to Biography. Prior to that, Maddow was a co-host on WRNX radio's The Dave Ryan in the Morning Show.
What she'll be asking the candidates: The forum will be held at Winthrop University in Rock Hill, South Carolina. 
"I'm going to press them on the fact that we're in the South ... and the fate of the Democratic Party in the South is a really interesting and, I think, daunting question for the Democratic Party," Maddow told the Charlotte Observer. 
"Even after the Democrats went south for their convention [in 2012 in Charlotte, North Carolina], and there was all this lip service paid to how the new South was a Democratic South, there are still major races in southern states where the Democratic Party basically isn't even fielding candidates. And that is a failure of what's supposed to be a [national] party that I haven't heard any of these candidates address meaningfully," Maddow said to the Charlotte Observer.
When asked what an ideal headline following the MSNBC forum on Friday is, Maddow told the Charlotte Observer, "Hopefully the ideal headline does not have me in it because it means I have not become part of the story. I want voters in the South ... to learn something that's going to help them make their decision."