John Leguizamo Has the Perfect Response to Donald Trump Hosting 'SNL' This Weekend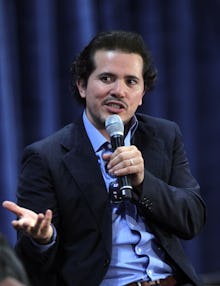 Republican presidential frontrunner Donald Trump is hosting Saturday Night Live this weekend. But at least one prominent Latino entertainer will not be partaking in the festivities: John Leguizamo.
Why not? Saturday will mark the second time Trump, 69, has headlined NBC's banner sketch comedy program (the first was in 2004).
This time is different. Trump's imminent gig comes at the heels of multiple derogatory remarks the candidate has made directed at immigrants — Mexican immigrants in particular — and policy proposals that include "forcing" Mexico to build a wall along the United States-Mexico border to keep people out of the United States.
He has also referred to immigrants from Mexico and Latin America as "rapists" and "killers."
"When Mexico sends its people, they're not sending their best," he said when he announced his presidential bid in June. "They're bringing drugs. They're bringing crime. They're rapists."
John Leguizamo has had enough. The Colombian-born actor and comedian spoke to Bianna Golodryga at Yahoo! News this week and made his position clear — he has no time for Trump and his anti-immigrant rhetoric:
"I think 'inflammatory' is ... a polite word for what he's done," Leguizamo said. "I mean, it's hatemongering. And I think that's really unacceptable."
He continued: "For him to go around saying that Mexican people are, you know, coming across the border, they're murderers and rapists and all the horrible things he's said, is so dangerous. People have been hurt because of his words..." 
"I find it hurtful and insulting, and you're celebrating someone who has said some horrible things. I find it unacceptable. I will not watch ... I won't watch SNL anymore."
Leguizamo is not alone. Demonstrators have gathered in front of NBC's studio in New York City this week, pressuring the network to rescind its invitation to have Trump host.
The Congressional Hispanic Caucus echoed this in a statement Monday, calling on NBC to "disinvite" Trump because his "demonizing [of] Latinos and immigrants has created fear within these communities around the country, many of which are represented in Congress by members of the Congressional Hispanic Caucus."
Even with his rhetoric, Trump remains at or near the top of Republican presidential polls, and has for some time.
Watch Leguizamo address Trump and SNL below: