It Only Took 14 Seasons, But a Plus-Size Designer Finally Won 'Project Runway'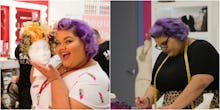 Project Runway just wrapped up its 14th season, but that doesn't mean the show can't have a groundbreaking "first." The winner of the fashion design competition, Ashley Nell Tipton, is the first plus-size designer to win in the show's history.
Tipton, who took home the grand prize on Thursday night, is proud to be plus size herself and to design for women with curvier bodies. Tipton's goal from Day One was undoubtedly to win, but also to showcase designs for plus-size women. 
"I'm trying to put plus-size on the map," she told BuzzFeed. "We can be fashion-forward." And her finale collection at New York Fashion Week, complete with plus-size models, did just that.
For the show's finale, in which each of the finalists presented their designs to a panel of judges, including Project Runway mainstay Heidi Klum, plus-size models showed off Tipton's signature whimsical and colorful designs, which included floaty pastel dresses and elaborate floral headpieces.
"That's what I love to design," Tipton told E! News. "I love to design the clothing that is not out there for your average plus size woman, and I want to fill in the gap of that industry and not design cookie-cutter things."
Tipton described her aesthetic to E! News as "fun and funky," and she doesn't shy away from embodying the look herself. Unabashedly proud of her body, the 23-year-old describes herself as "fun, funky and fat" on her Instagram profile, something she repeated in an interview with the Insider.
That proud voice and colorful, unapologetic aesthetic is especially valuable for the plus-size market, where the clothing norm has long been drab, matronly and woefully untrendy. But change has come from the plus-size community itself, from bloggers showcasing just how great trendy, traditionally "unflattering" styles can look (hello, #RocktheCrop) to innovative designers bringing more variety and fashion-forward thinking.
Tipton's win in the long-running show is a victory for plus-size fashion and the industry as a whole, shining a light on an often-neglected part of the business. 
Unsurprisingly, her win on Thursday was quickly applauded by plus-size fashion bloggers and writers, many of whom had already seen the win coming based on reception to her Fashion Week show back in September.
"Ashley shows us that designers can look at plus size fashion as an opportunity, not a difficult task," plus-size blogger Chastity Garner wrote recently. "Plus size fashion is an after-thought to a lot of retailers out there. It's getting better, but anyone that knows anything about Ashley, we know that she is a plus-size fashion designer and not because someone forced her, but because she wants to."