Colorado Sexting Laws: High School Scandal Leads to Possible Felony Charges for Students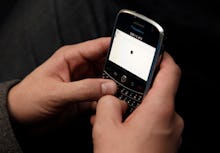 This week, school officials in Colorado uncovered an alleged sexting scandal at a high school in Cañon City, located about 45 miles southwest of Colorado Springs. The incident involved hundreds of nude photos and an unspecified number of students, some as young as eighth grade, according to CBS. The scandal could result in felony charges for some of the students involved for possibly violating Colorado's sexting laws, which categorize underage sexting as child pornography depending on the circumstances.
Colorado's sexting laws: Nationwide, consensual sexting between adults is not considered a crime, but in some states, sexting between teens could constitute a criminal offense. According to Criminal Defense Lawyer, some states have adopted legal measures to specifically address teen sexting. In those states, minors who sext aren't typically charged with major criminal offenses.
Yet in states where sexting has yet to be addressed, minors who send nude photos can be charged with child pornography if the subject of the sexting is under 18 years old. Because Colorado has not adopted legislation that solidifies sexting laws regarding minors, offenders under the age of 18 can face significant criminal charges, including at the federal level. 
Penalties for sexting in Colorado depend on if the offender is considered to be a juvenile or an adult in the eyes of the law, according to Criminal Defense Lawyer. Sexting offenders under the age of 18 are charged in the juvenile justice system and can face lighter sentences like a fine, probation, house arrest or being detained at a juvenile facility. 
The penalties for offenders 18 and older are far worse and can include fines as high as $750,000 and up to 12 years in prison, depending on the circumstances of the offense. 
What Cañon City students face: According to the school district's Facebook page, officials have handed the case over to investigators. Officials explained what the students from Cañon City High School face.
"A person can be charged with a class 3 felony if they have taken a picture of themselves showing a naked, private body part and sent it to another person, have received such a picture and forwarded it to another person or have received such a picture and retained possession of it over time," reads a Facebook post. "Police representatives have said the primary focus of their investigation will be to determine if any adults were involved and to determine whether any photos were coerced. Formal charges will be determined by the DA's [District Attorney] office."
The fallout so far: Since Cañon City School District first discovered the photos, which included both boys and girls and were hidden and passed from student to student via various smartphone apps, the consequences for students have been swift, particularly for those involved in varsity sports. 
"Because a large number of our high school football players were implicated in this behavior, the coaching staff and administration, after careful thought and consideration, decided that stepping on the field to play this weekend to represent the Cañon City community is just not an option," the school district said in a Facebook post. "We realize this decision will unfairly penalize many of our fine young men who clearly did not participate in these actions." 
"However, we concluded it was impossible to safely field an entire team representative of the personal qualities and characteristics that truly represent the history of the Cañon City High School football program," school district officials wrote.