Syria's Government Is Profiting From "Disappeared" Civilians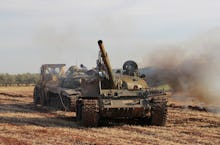 Syrian President Bashar al-Assad's regime is turning huge profits by "forcibly disappearing" those who oppose it, and then counting on their desperate relatives to open their wallets for information on their whereabouts. 
A 71-page report Amnesty International released Thursday condemns an "orchestrated campaign" of violence by the Syrian government, with more than 65,116 disappearances recorded since March 2011, nearly all of which involved civilians.
Through the use of tactics that ultimately "amount to crimes against humanity," as the report concludes, Syrians are borne away from their homes and offices and subjected to systemic abuses by the government, ranging from yearslong imprisonment in filthy, overcrowded cells to murder at the hands of their captors. 
The targets of these enforced disappearances are wide-ranging, according to Amnesty International: Peaceful protesters, defectors, journalists and doctors all vanish in droves. Families of the victims are left to wonder the fates of their missing loved ones, their worst fears neither confirmed nor denied.
Intel on the whereabouts of the disappeared becomes precious capital which is then used to extract black market profits from the bereaved family members. 
Often, families are willing to pay anywhere from "hundreds to tens of thousands" of U.S. dollars to "brokers" or "middlemen" who purport to have answers on their loved ones' fates. The report identifies one man named Salaam who claims to have paid the equivalent of $3,000 to hear just a single word about his son's condition. That word? "'Alive' or 'dead.'"
Over time, these types of exchanges have garnered huge sums of money for the Syrian government and its allied militias.
"These bribes are a cash cow for the regime — they are a source of funding that they have come to rely on," an unnamed Damascus-based defense lawyer told Amnesty. "Even the lawyers are taking bribes now. It's a disgrace."
One man, Hakim al-Saleh, whose brother was taken in 2013, described paying a broker the equivalent of $30,000 and selling the land that had been in his family for generations in exchange for information that eventually led him nowhere.
"We sold our land so that we could pay this man," al-Saleh said. "My grandfather didn't sell this land, my father didn't sell it, but I sold it, and for nothing in the end. But it was the right decision. If they find him, we would give everything we own."
Another man, Saeed Eido, told Amnesty that after his brother was forcibly disappeared in 2012, his family was inundated with bribe requests from shadowy intermediaries claiming to have information. "We receive calls all the time from people we don't know. Each one says they can find him if we give him the money."
The business of human exploitation is booming in Syria, and if there are any government officials that take issue with the culling of massive profits from the misery of others, they have yet to say as much.
"Given how widespread and common these bribes are, the state must either be expressly or implicitly condoning this practice," Nicolette Boehland, one of the authors of the report, told Reuters. The lack of intervention by state officials, she said, is evidence that they are likely directly benefiting from such transactions.
The authors of the report said they attempted to contact the Syrian government about the alleged abuses, but received no answer.
Syrian government officials have been attacking the populace indiscriminately since peaceful protests turned  in the country in 2011.
Since then, the conflict has spiraled into one of the most horrific civil wars in modern memory, prompting civilians to flee the human rights abuses they face at home in favor of newer, albeit still treacherous, landscapes. 
The United Nations Refugee Agency currently lists the number of registered Syrian refugees at over 4.2 million, marking a mass exodus from the country that shows no signs of subsiding.
In February 2014, the U.N. Security Council unanimously adopted Resolution 2139, a measure aimed at increasing protections for embattled Syrian civilians, but has thus far failed to implement it in any meaningful way.