Los Angeles LGBT Center Vanguard Awards 2015: Start Time, Honorees and How to Get Tickets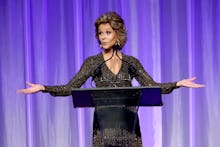 The Los Angeles LGBT Center's 46th anniversary gala Vanguard Awards will take place Saturday night at the Hyatt Regency Century Plaza. The dinner and awards show kicks off at 8 p.m. Pacific, and the event's biggest recognition will go to Jane Fonda, who will receive the Vanguard award for her LGBT advocacy work. 
Gay documentarian, writer and activist Ron Nyswaner will receive the Rand Schrader Distinguished Achievement award, the night's second-biggest honor, for Nyswander's work pioneering several LGBT-related films. Lily Tomlin and Frances McDormand will present the two major honorees with their awards. 
Performances throughout the night will include Linda Perry, whose single "Hands of Love" is in the new film Freeheld, as well as musicians Alex Newell, Pauley Perrette and the Denise Fraser band.
Although the event won't be broadcast via TV or live-stream, tickets are still available on the LA LGBT Center's website. A general admission ticket costs $400, with silver, gold and platinum sponsor tickets going for as much as $25,000. A dessert and after-party will take place following the awards show, and will feature a set from DJ Asha. 
According to its website, the LA LGBT Center was founded in 1969 and is now the world's largest organization providing a broad span of services to the LGBT community, from housing and meals to health and career opportunities.
Find out more about the 2015 LA LGBT Center Vanguard Awards and purchase tickets here.