Not All Lesbians Own Cats, According to New Data, And Other Same-Sex Stereotypes Debunked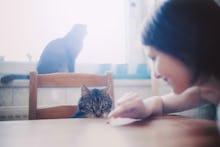 Lesbians. They love cats, The L Word, power tools and moving in together after the first date. Or so the stereotypes go. 
But data from the popular, female-only dating app Her (formerly Dattch) is debunking a lot of these clichés. The company analyzed more than 5 million messages sent through the app in the last month "to prove whether these repeated lesbian stereotypes have any truth to them," Her wrote in a press release on Oct. 26.
The results are surprising. For starters, Her discovered dogs were mentioned nearly two times as much as cats. "This is an interesting one because it's a stereotype that seems to be going for the past 40 years: lesbian[s] love cats," the company reported. 
Not so much, it would appear. There were around 30,000 conversations about dogs alone. 
Then there are the ubiquitous sports stereotypes, which claim that ladies who love ladies also love roller derby and softball. Yet roller derby didn't even make it into the top five sports discussed on the app. While softball did make the list, it wasn't the most popular sport — soccer was.
And as far as queer women's pop culture is concerned, Orange Is the New Black dethroned The L Word, with the app's sapphic conversationalists mentioning the former show 100% more than the latter. 
The most surprising result had to do with sexual identity. Given that Her has been marketed as a "lesbian app," one would assume that the vast majority of women using the app self-identified as such. But while 41.2% of Her users self-identify as lesbians, less than half of the app's user base, nearly 60% used terms like queer, bisexual, bi-curious, pansexual and other to describe their sexual identities. 
The data suggests not only that Sapphic stereotypes are woefully outdated but also that sexual identity itself is rapidly changing. While we already know that young adults in general are increasingly identifying as sexually fluid, with a U.K. survey determining that nearly 43% of British adults identify as something other than exclusively gay or straight, the no-labels trend seems to have spilled over into same-sex dating apps as well. 
In short, the Her data confirms what many of us probably already knew: Just as sexual orientation labels are fading away, so too are silly LGBT stereotypes. Which is all to say, as Thanksgiving swiftly approaches, it might be worth putting that joke about lesbians and turkey basters back in the kitchen drawer.