Coldplay New Album 2015: Release Date, Guest Artists and Info for 'Head Full of Dreams'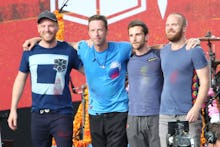 Four-piece British band Coldplay is gearing up to release its seventh studio album, titled A Head Full of Dreams, a followup to the group's critically acclaimed 2014 record Ghost Stories. A Head Full of Dreams will be released on Dec. 4 via UK label Parlophone Records. 
The band, which includes Chris Martin, Guy Berryman, Jonny Buckland and Will Champion, has made one single available ahead of the album's release date, a cut called "Adventure of a Lifetime." The track strays significantly from the ambient soft rock of tracks like "Yellow," from 2000's Parachutes, or "Clocks," "Green Eyes" or the title track from 2002's A Rush of Blood to the Head. 
On "Adventure of a Lifetime," Coldplay's sound has evolved distinctly as the band experiments with synth and reverb, which might make listeners wonder whether the group is about to go the way of synth-pop, or fall somewhere between the chill wave and electronic movements. But once lead singer Martin's vocals are introduced, it's clear Coldplay hasn't strayed too far from its roots. 
"Revitalized, they've made an album that's bursting with energy, color and big, life-affirming moments such as the deliciously ebullient first single 'Adventure of a Lifetime' and the rocket-powered 'Hymn For The Weekend,'" the band's record label said in a statement. "Coldplay have never enjoyed making a record more than this one. Nor have they been happier with the results. And, this time, they plan to take it around the world."
Coldplay gets by with a little help from their friends. The British rockers collaborated with a few high-profile musicians on their most recent album.  Norwegian duo Stargate, who has worked with Rihanna, Katy Perry and Marina and the Diamonds, to name a few, teamed up with the band's long-time producer Rik Simpson. Important to note are the guest stars on A Head Full of Dreams. All-star contributors join Coldplay on 11 of the album's tracks, with appearances from artists like Beyoncé, Noel Gallagher, Tove Lo and Merry Clayton. 
The album is available for preorder on CD or Vinyl or via iTunes, Amazon or Google Play.
Here's the track list for A Head Full of Dreams: 
1. "A Head Full of Dreams"
2. "Birds"
3. "Hymn for the Weekend"
4. "Everglow"
5. "Adventure of a Lifetime"
6. "Fun"
7. "Kaleidoscope"
8. "Army of One"
9. "Amazing Day"
10. "Colour Spectrum"
11. "Up&Up"
12. "X Marks the Spot" (Hidden track)