Robert De Niro Doesn't Give a F*ck About Your Stupid Startup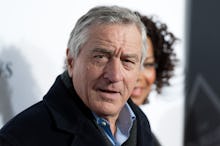 You talkin' to Slack? Robert De Niro is, and he is not into it. 
On Wednesday, the Taxi Driver and New Year's Eve actor attended WSJ. Magazine Innovator Awards to present Angelina Jolie with an award in the entertainment and film category. 
Prior to De Niro's appearance, Steven Butterfield, co-founder of the messaging app Slack, went onstage to accept an award and attempted a few jokes, noting that he felt a tad out of place. 
"We are a long way from San Francisco," he said upon receiving what he termed a "nerd award," according to Page Six. Then he set his sights on De Niro. "I watched Godfather II on the plane ... when you killed Don Fanucci, I liked that."
Maybe De Niro was having a bad day. Maybe he's a HipChat fan. Maybe he felt threatened by Butterfield, who looks like a younger, richer version of De Niro. Maybe De Niro wishes he were the co-founder of a $2.8 billion company. Whatever it was, the actor wasn't having it, and launched a shady tirade at the tech executive.
"Whoever the last speaker was," De Niro began, according to Page Six. "I thought you were a bit condescending to us actors ... celebrities. I'm gonna go on record with you just to say that. And I don't give a fuck who you are."  
Ah, yes. Isn't it great when a member of one self-congratulatory profession finds fault in a member of another self-congratulatory profession?
Luckily (or unluckily, depending on your penchant for ridiculous rich-people catfights), Butterfield took the barb in stride, tweeting the following photo that night:  
#lifegoals! 
h/t Vulture