Who Is Maria Bartiromo? A Quick Guide to Fox Business Moderator for GOP Debate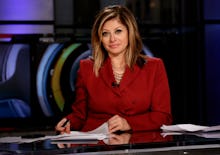 As Republican presidential hopefuls take the stage at the fourth GOP debate, the moderators will be gearing up for a debate focusing on the economy and jobs and less on "gotcha" questions, according to the network. Maria Bartiromo, Fox Business anchor and host of Mornings With Maria, will co-moderate the debate along with her colleague, Neil Cavuto, and Wall Street Journal editor-in-chief Gerard Baker, according to Fox Business Network.
"It's so important, more than ever before, to recognize what the point of these debates are," Bartiromo told Fox Business Network in an interview Oct. 30, following the third Republican presidential debate. "I think the point of these debates in general is to ensure that the voter out there has an opportunity to distinguish all of the candidates, the differences in their economic policy, their foreign policy and also the differences in their leadership style and their governance."
"I think that's what I want to do," Bartiromo told Fox Business Network. "Try to make sure to communicate and solicit from all of the candidates how their plan differs from the next guy or gal, and how it impacts the average person out there. That's what I want to get to."
The Fox Business Network/Wall Street Journal presidential debate follows the widely criticized third GOP event, which CNBC hosted in October. Bartiromo served as the "face on NBC" as the network's morning anchor for over 20 years, according to her website. 
Bartiromo is a two-time Emmy-winning journalist: once for her reporting in 2008 on the financial collapse, and again in 2009 for her CNBC documentary, Inside the Mind of Google. She is a graduate of New York University, studying economics and journalism, and was also an adjunct professor through the university from 2010 through 2013.
The Republican presidential debate airs on Fox Business Network at 9 p.m. Eastern on Tuesday.