11 Rap Dads Who Challenge Myths of Black Fatherhood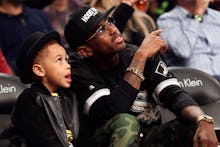 Myths about black fatherhood have already been debunked — by the U.S. government, no less. In a 2013 report, the Centers for Disease Control and Prevention found that a higher percentage of black fathers eat a meal with their children every day than white or Latino fathers. They also bathe, diaper and dress their children daily at a higher rate than other dads too. 
In an essay for CNN, black father Aaron Paxton Arnold wrote, "[B]lack fathers are there all around us. On the streets and in hip-hop culture ..." He continued, "If you come to my block you will see black fathers and husbands celebrating with their wives and spending quality time with their children."
Given notorious rapper stereotypes, pairing fatherhood with hip-hop may seem odd, but that's not really the case. In fact, there are a serious amount of dads in the rap game who can spit rhymes and clean spit-up. 
1. Wiz Khalifa 
Aside from adorable videos of his son rapping his hit song "Black and Yellow," Wiz Khalifa is clearly involved in his son's life. Wiz Khalifa told People that he plans to raise his son, Sebastian Taylor, just like his mother raised him: to use his manners. 
There's one thing he doesn't want his son to do: get tattoos. "I look at him and how handsome he is, and I would just die if he got tattoos like me," he told People. "Please do not — just listen to me — do not touch your skin!"
2. Nas
Not every kid has an entire song dedicated to them. But if you're Queens, New York, rapper Nas' daughter, Destiny, you're one of the lucky ones. Nas is openly vocal about the immense love he has for his child, immortalized in the song "Me & You (Dedicated to Destiny)" from his 2004 album Street's Disciple. 
In the song, Nas tells Destiny that she'll one day understand her parents' rules and advice. To Nas, it's all about respect: respecting her parents and finding a partner that will respect her, too. 
Destiny, now 21, shows up frequently on Nas' Instagram: 
3. Big Boi
Big Boi, one half of the legendary rap group Outkast, has three children: sons Bamboo and Cross and a daughter, Jordan. Big Boi unabashedly shares his fatherly pride on Twitter and Tumblr, and flooded Instagram with photos the day his daughter graduated high school with honors. 
He has high expectations for his sons to do well in school too. 
4. Ja Rule 
Despite their slew of hits from about a decade ago, Ja Rule is not married to Ashanti, but he does have three kids with his wife, Aisha. Their kids Brittany, Jeffrey and Jordan are featured on his MTV reality show Follow the Rules. The rapper shares plenty of snaps with his family on Instagram. 
In an interview with Vibe, Ja Rule said, "Life is about being closer to your children. You know, and them being close to you. I want my kids to run to me, not from me." He also said he wants his kids to be honest with him, whether it's about school or their romantic relationships.  
5. Ludacris
Ludacris is a "stand-up" father. Besides taking his daughters to dads and daughters night to watch some WNBA basketball, his Ludacris Foundation emphasizes the power of family.
In 2002, Fox News Channel's Bill O'Reilly said Pepsi should not make the rapper its spokesman, because he was a "thug rapper" who "espouses violence, intoxication and degrading conduct toward women," according to MTV. Ludacris told TV personality Sway in a 2015 interview that he actually got a chance to follow up with O'Reilly in person about five years later. On his O'Reilly confrontation, Ludacris told Sway, "You said a lot of things about me, and I'm just here to let you know you're judging something based off of an art form and a music I have, but you have absolutely no idea who I am as a man." After telling O'Reilly about being a father and his foundation, the rapper said O'Reilly wanted to make a donation to his foundation and has not mentioned Ludacris on his show since. 
5. Fabolous 
It's not hard to find a picture of rapper Fabolous with his son, whether it's at a basketball game together or on the cover of his 2014 album Young OG Project. "He's kind of a young me," Fabolous told Fuse. 
And Fabolous, who has rapped about his own absent father, has no plans to leave his son. Ever. 
"I just had a son prior to doing the record, and it made me reflect back on, you know, my father being absent kinda in my life and it just related to me because of how I felt about my son," the rapper told HardKnockTV. "It was kind of a weird moment for me because I started feeling like, 'Well, if I feel like this about my son, why didn't my father feel like this about me?'"
Fabolous said having a son made him consider music less as a hobby and more as a career to provide for his family. It also made him think about his son's future. "I started to feel like that's what being successful was about," he told HardKnockTV. "Being able to carry that success into giving your siblings and your family and your son more options to do what he would like to do because I come from not having so many options." 
6. Xzibit 
The rap world heard nary a sound from Xzibit for six years, from 2006 to 2012. The reason? It turns out Xzibit and his then-girlfriend Krista Joiner had a child who passed away after being born premature. 
"Xavier Kingston was my second-born son, and he passed away prematurely," Xzibit told Billboard. "It['s] something that you just can't just up and [say], 'Oh well guess I better go tour.' It ain't like that. You know? So sometimes you have to disconnect yourself from that."
In an interview with Vibe, Xzibit said above being a rapper, he is a "father first" to his two sons: Gatlyn and Tremayne. He added, "My responsibility is to send decent human beings out into society." 
Xzibit opened up about becoming a father in a 2013 Instagram post: "Father's Day, for me is everyday," the rapper wrote. "I became a father at the age of 19. Now, at that age along with a definite lack of maturity you can only do two things when it comes to being a father. One, rise to the occasion and sacrifice for the safety and stability of your child. Or two, fail miserably."
7. Wyclef Jean 
One-third of mega-successful rap group Fugees, Wyclef Jean is also a successful father. Jean adopted his daughter, Angelina, in 2005. 
In an interview with Babble, Jean spoke about the decision to adopt a child. "She was a child that needed love and life," Jean said of Angelina, who is half-Haitian. 
Jean told Babble he believes that children can succeed if given enough resources. Jean said Angelina was involved in ballet, art and singing as a child. On his parenting style, he said, "Loving and giving of myself and my time are the things I try to do most." 
8. Snoop Dogg
When he was rapping about "Gin and Juice," who knew Snoop was probably talking about apple juice? Snoop Dogg opened up his home life for his 2008 reality show Father Hood, which featured his three children — Cordell, Corde and Cori. On the show, Snoop Dogg renewed vows with his wife, high school sweetheart Shante Taylor, after four years of separation. 
Snoop Dogg created the Snoop Youth Football League and told Rolling Stone he even quit smoking weed for the sake of the team. 
According to Snoop Dogg, football made him a better dad. "I used to put in zero time, but now I at least get moments with them," he told Rolling Stone. 
Snoop Dogg said he hopes to break the cycle of parental absenteeism, especially as someone who did not have a great relationship with his father. "I'm breakin' the chain," the rapper told Rolling Stone. "When I'm out there bonding with these kids, it makes their fathers want to become part of their lives, if they're not. It's a beautiful thing."
9. The Game 
The Game has four children: Harlem, King, California and Madison. Last year, when Harlem graduated middle school and went onto high school, The Game posted a snap of the occasion to Instagram: "The day he was born I had no idea time would fly by this quickly," he wrote. "Congrats to my first born ... for being a straight-A student six years in a row [and] leaving elementary school in the dust." He ended with the hashtag "#LikeFatherLikeSon." 
The hashtag "#LikeFatherLikeSon" is an allusion to a song off his 2005 debut album, The Documentary, "Like Father Like Son." In the song, The Game recounts the events of his son's birth. On the chorus, Busta Rhymes repeats the phrase: "I hope you grow up to become everything that you can be/ That's all I wanted for you young'n, like father, like son." 
10. Swizz Beatz
Swizz Beatz has two children, Egypt and Genesis with his wife, Alicia Keys, as well as three children from previous relationships: Prince Nasir, Kasseem and Nicole. 
In an interview with People, he said his family changed his life. "My baby and all of my kids are life itself," he told People. "They have changed me and are angels to the world." 
"My kids have shaped my life in a way that I never expected," he told Vlad TV. "Kids are blessings. That's like the best gift you can get in this world, is life. I've witnessed that. You can see my Instagram; I have fun with my kids. We have so much fun. If we had a TV show, it would be way off the charts. But we have our own TV show being around each other privately." 
11. Kanye West
Whether or not he's running for president in 2020, one thing is for sure when it comes to Kanye West: Being a father has made him even more focused on his career. In several interviews, one of which was a sit down with Ellen DeGeneres, the rapper said he wants to establish a solid foundation for his daughter, North. 
In Interview magazine, West spoke about the love he feels for North. He said, "It's all brand new, how it feels to be a father. There are some things I understand ... but when we talk about love, I don't have an answer. All I can say is that I'm happy I have it." He also said his partying days are done. "I'm not at the club. ... I'm never at 1OAK," he told Hot97. "I'm never gonna be nowhere. ... I gotta focus on the kids. I gotta take 'em to, you know, tap class..." 
Even when he's not taking North to various activities, he's thinking about the next time he gets to see her. "Now, I'm on the first flight home to see my greatest inspiration, that's my daughter," he said, according to Us.
Just because these dads are there for their kids does not mean all children have present fathers. However, next time we go looking for a place to curb this epidemic of absent black fatherhood, let's not just blame hip-hop culture. A more palpable culprit? Mass incarceration in the United States, which is responsible for almost 1.5 million missing black men.