Women on Tumblr Are Making Beautiful Art Inspired by Their Vaginal Discharge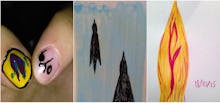 The beauty of vulvas has long been celebrated in art. From the cave carvings of the Pleistocene period to the masturbating nudes of Gustav Klimt and Jamie McCartney's 2011 Great Wall of Vagina, lady parts have inspired some of the world's most famous artistic creations. But while many homages to yonis exist, not much attention has been drawn to what goes on inside the vagina — and what subsequently comes out. Yes, we're talking about vaginal discharge.
Vaginal discharge is the term used to describe the blood, dead cells and bacteria regularly expelled by cervices and vaginas during the routine self-cleaning process. While vaginal discharge is totally normal and keeps the female reproductive system in fine working order, it's not often been thought of as a source of artistic inspiration — until now.
Thanks to the Internet in general, Tumblr specifically, there's a thriving subculture of art inspired by (and created with) the vagina's main exports. And while much of it is aesthetically pleasing, it comes with the added bonus of breaking taboos about vaginas. The ultimate example of this is What Did My Vagina Do Today, a Tumblr inspired by the artists' day-to-day vaginal discharge.
Like most entries in the Western art historical canon, What Did My Vagina Do Today was inspired by the personal experience of London-based creator Jessica Dean.  
"I mused to myself that the pattern in my underwear looked like a Rorschach Test, which led me to thinking about creating artwork based on, and inspired by, vaginal discharge," Dean, 23, told Mic.
"This concept leant itself very easily into a daily art project, something I had been already considering embarking on, and I realized it could work well as a blog."
After searching online to see if anyone else was sharing their vaginal discharge online, Dean was "stunned" to find there was nothing else like it on the Internet.
"The only blogs I can find about discharge are kink blogs that post photos of dirty underwear. While I have zero problem with these blogs, or the kink, I wanted to distance the project from this avenue; I want to normalize the bodily function, not sexualize it," she said.
And so What Did My Vagina Do Today, aka "Discharge Discourse," was born. On the Tumblr, Dean and a few friends create art inspired by what they find in their underwear. So far, they've dreamt up birds:
Flowers:
And even interpretive nail art. 
Dean hopes the Tumblr art will ultimately help destigmatize vaginal discharge and help younger women understand that it's totally normal. 
"Discharge is humiliating. [It's] barely mentioned in sex ed," Dean said. "It seems to be something that girls' discover in their own underwear and not understand, and are too afraid to ask about."
While discharge art might be new to the vaginal art scene, menstrual art has been around for quite some time. Menstrual artists like Lani Beloso, who created a canvas splattered with her shed uterine lining, and Sarah Levy, who painted a portrait of Donald Trump using her menstrual blood as a medium, are subverting art world tropes by using their own blood to paint scenes of beauty (think flora, fauna) and, in the case of the Trump portrait, true ugliness.
Tinet Elmgren, a 34-year-old Berlin-based artist who works in many different mediums, started playing with the tiny amounts of blood she'd get from accidental wounds like a cut or scraped knee. Having dealt with heavy flow since she was young, she realized one day that she could finally find a function for it.
"One night when I was 21 and angry that I'd gotten my period again, I just got the random idea that I could do something fun with my period and try to paint with my menstrual blood," she told Mic.
She started to look forward to her period, so she could simply squat above a canvas and free bleed onto it.
"By painting with my menstrual blood, there was finally something nice about getting my period, even something to look forward to," she told us.
"There was finally something nice about getting my period."
Elmgren said she has received a great deal of negative feedback, with many calling her work "disgusting" or calling her a man-hating feminazi. But for the most part, she said the response has been positive. "I've gotten messages from women who thought the project was fun and helped them feel better about their periods," she told Mic.
As she's gotten older, Elmgren's periods have gotten lighter, shorter and less painful. Since then, she's painted with her period blood less regularly, only using it for special projects that call for real blood.
Similarly, Retta, a 39-year-old Indonesian artist who goes by the pseudonym Cannibal Wednesday, said that creating menstrual art brings her closer to other people. 
"I have social anxiety which [leads me to] withdraw myself from any social situations at any cost, but at the same time I strive to reach out and make connections to feel less lonely. Using my menstrual blood for my art is my way of reaching out. [It lets me open] up and put myself out there and I find it quite soothing," she told Mic.
As far as the logistics of creating menstrual art are concerned, Retta starts by squeezing her menstrual blood out of a tampon. She finds that to add depth to a painting, you need to dilute the blood with water. She said it's actually a lot easier to use than other paints because it's only one color and menstrual blood, unlike blood from other parts of your body, doesn't clot. 
Elmgren also said she enjoys the unique range of color that can only be achieved via menstrual blood. "Menstrual blood can be transparent and opaque in the same stroke," she told Mic. It has many different shades of red in it, fascinating shades that are not easy to achieve when using more traditional paints."
All of the women who used menstrual blood as a medium agreed that if women want to become more in touch with their menstrual cycles, they should give it a go. As Retta told Mic, "It's not a nasty thing, it's just your own body fluid. Paint with it, mixed it in your medium or anything, take a personal moment ... you'll be surprised how comforting it is."
Dean echoed the idea that exploring this art will help women creators be more at home in their own bodies.
"I remember being round a friend's house when I was about 12 and seeing a pair of dirty underwear discarded on the floor and realizing that this actually was something that other girls experience, and I suddenly felt very happy, relieved," she told Mic.
"As the idea for the blog blossomed, I realized that this was what I wanted from it. The blog is for those who feel like what shows up in their underwear is ugly, and surely that no one else makes anything as hideous as this. I want it to stop being such an ugly taboo and to turn into something that can be openly discussed."