A Movie About Gamergate Is Coming, and Scarlett Johansson Could Be the Lead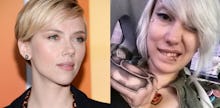 Few people understand online harassment like Zoë Quinn. As one of the primary targets of Gamergate, she had her personal life and relationships dragged into the spotlight. Soon, she'll be the one broadcasting her story on silver screens across the country.
Amy Pascal, former co-chair of Sony Pictures and head of Pascal Pictures, has acquired the rights to Quinn's upcoming memoir, Crash Override: How to Save the Internet From Itself, about nerd culture and the harassment she faced as one of Gamergate's targets. Originally reported by Deadline, Quinn has verified the details to Mic.
Quinn told Mic the movie isn't about Gamergate exactly but "it's about online harassment and abuse in general." The original proposal for the movie says:
Gaming and Internet message boards used to be niche interests, mostly for young men. In the past few years, however, they've gone mainstream. Millions of people — including women and other marginalized people — have taken an interest in the platforms, image boards, and discussion forums that once belonged by default to a much smaller population. Most gamers give zero fu*ks about this. Like the rest of us, they're just here to play games. But a vocal minority are clinging onto the brand of Cheetos-and-Mountain-Dew exclusionary identity 'hardcore gamer,' muttering 'fu*kin casuals' under their breath.
There are few additional details about the film, except that Scarlett Johansson has expressed interest in playing Quinn. The movie will be one of the first films from Pascal Pictures, along with the new Ghostbusters movie starring Kristen Wiig, Melissa McCarthy and Kate McKinnon.