This Transgender US Veteran Is Using a T-Shirt to Make a Bold Statement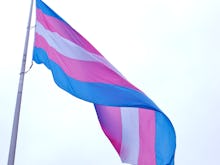 Americans enjoy free speech, and this T-shirt will remind you why you have it. 
Friday morning, transgender veteran Carla Lewis used her Facebook to send a message to all Americans: If you're going to hate trans people, you should probably thank a trans veteran.
Lewis wears a T-shirt that says "Transgender Veteran: I fought for your right to hate me." 
According to Lewis's website, she was discharged from the U.S. Air Force in 2010 for gender dysphoria. Lewis wrote on her "about" page that her discharge papers say she has "mental disorders." 
Aside from her veteran status, Lewis also has a hefty activist's resumé. In 2013, she served a term as president of the Tennessee Transgender Political Coalition. In an interview with the Examiner, Lewis called advocacy a "never ending challenge." 
Lewis told the Examiner that activism was about more than changing people's attitudes regarding transgender people. "Each member [of the TTPC] is encouraged to be involved in their own community to change hearts and minds of the citizenry," she said. "Well, maybe not so much to change hearts and minds, but rather to convince those that are ambivalent about transgender people to take a positive position and stand with us." 
Lewis, who is married, also spoke to the Knoxville News Sentinel about the couple's wedding day, which occurred on a family trip to Las Vegas. Though Nevada at the time did not allow same-sex marriage, Lewis's masculine gender marker on government forms allowed the wedding to commence. 
Lewis is one of many transgender veterans. According to the Transgender Veterans Association of America's FAQ, many transgender veterans seek help with their health care as well as assistance in changing their names on military records. The first approved name change happened in January 2015. 
Lewis's shirt is a bold statement in what has been a record year for violence against transgender people, particularly violence against transgender women.  This year, one transgender woman was murdered every week during the first eight weeks of the year. 
"We can't say that this violence is random or by coincidence," Chai Jindasurat, co-director of community organizing and public advocacy at the New York City Anti-Violence Project, told Mic an earlier interview. 
Lewis' Facebook post has been shared more than 8,000 times and those in the comments can't get enough of it.