Ben Carson's Home Is an Eerie Homage to Ben Carson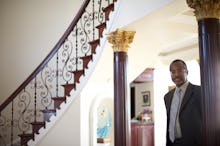 Neurosurgeon Dr. Ben Carson, who continues to rank in first or second place in polls for the Republican presidential primary race, has what could charitably be called an eccentric taste in home decor.
A recent profile in the Guardian took a photo tour of Carson's home in Upperco, Maryland, and dubbed what it documented as an "homage to himself."
Carson's walls are covered with dozens of news clippings, honorary degrees and photos of him alongside various celebrities, dignitaries and world leaders — as well as full-size paintings featuring Carson proudly posing in his white coat alongside the lord Jesus Christ.
No, really:
A pretty large portrait of Carson rests above his fireplace.
Here are some other shots of all the strange memorabilia one finds in Casa de Carson:
To those not inclined to find Carson's political views particularly compelling, this choice of furnishings will doubtless seem as weird as the candidate's consistently bizarre public pronouncements. Just recently, those include his alternate explanation for who really built the pyramids, his shifting narrative on his violent past as a teenager, inconsistencies in the story of his supposed full scholarship to West Point, and his theory that Jews could have prevented the Holocaust if they had just owned more firearms.
On the other hand, Carson's supporters will probably see the photos as more evidence that the legendary neurosurgeon is a very accomplished person and dedicated Christian.
Strangely enough, Carson isn't the only presidential candidate to prominently display paintings of himself. Sen. Ted Cruz (R-Texas), who is currently ranked well behind Carson in an average of polls kept by Real Clear Politics, has long kept a massive portrait of himself arguing before the United States Supreme Court in his office.