A Who's Who of Latinos Wrote an Open Letter Denouncing Donald Trump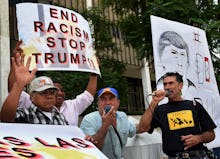 Academy Award-winning actor Demián Bichir, actor Diego Luna, Academy Award-winning director Alejandro González Iñárritu and novelist Junot Díaz just dropped their latest collaboration. And no, they're not the stars, director and screenwriter of Hollywood's next hit. 
These four, along with 63 other prominent Latinos from various fields including science, academia, the arts and law, wrote an open letter slamming Donald Trump. The letter, which Univision published on Tuesday, decries "the verbal attacks of Mr. Trump are not based in statistics." All quotes are translated by Mic. 
The signatories wrote, "We condemn this attitude and we hope that the American people stop tolerating his absurd positions." 
People of various Latin and Latin-American backgrounds signed the letter, including prominent Mexicans, Chileans and Dominicans. Collectively, the letter's writers have won numerous awards, including the Nobel Prize and the Pulitzer Prize. 
That the letter was published on Univision is no small irony, either. The Spanish-language TV station severed ties with Trump and his Miss Universe competition after Trump's anti-immigration comments in June during his presidential campaign announcement. Trump also tossed respected Univision journalist Jorge Ramos out of a press conference in August. 
The letter denounced Trump's plans to deport millions of immigrants and build a wall on the U.S.-Mexico border.
"His hate speech appeals to the lowest passions, like xenophobia, machismo, political intolerance and religious dogmatism," the authors wrote. The letter said that Trump's anti-immigration sentiments are not new — in fact, past politicians who embraced these ideals are responsible for many deaths and physical assaults, the letter claims. The letter also pointed to the physical violence Latinos have already faced from Trump supporters. 
Puerto Rican singer Ricky Martin made similar points in an August op-ed posted on Fusion. 
"We have to stop the power that Trump feels he has over Latinos, and the xenophobic speech that he and his campaign team seem to be convinced will be successful," Martin wrote. 
The open letter also sees Trump's candidacy as a misstep for his campaign and the United States. 
In closing, they wrote, "Mr. Trump's behavior is unworthy of a candidate to the presidency of one of the most powerful countries in the world."