The #LatinasAreNot Hashtag Is Smashing Latina Stereotypes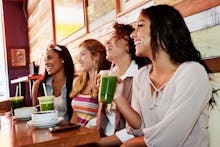 Watching television might lead a casual viewer to believe all Latinas are barely intelligible and look like Sofia Vergara or Cecily Strong — who, if you didn't know, isn't Latina. 
But thanks to a campaign from the Huffington Post, Latinas are taking the chance to tell you about themselves on Twitter. Here's what they have to say: 
Even Democratic presidential candidate Hillary Clinton showed support. Clinton retweeted one of the #LatinasAreNot tweets that dealt specifically with Republican presidential front-runner Donald Trump, who is less than popular with Latinos. 
Clinton has courted the Latino vote in several not-so-subtle ways, including playing Selena's "Bidi Bidi Bom Bom" at a Texas rally. 
These women are not alone in fighting against media depictions of Latinas. In October, America Ferrera released a video parodying Billy Eichner's "LaTina Fey" video, in which Eichner challenged Tina Fey to name 20 Latino performers in under a minute. Gina Rodriguez also spoke about the opportunity to play a fully realized Latina on the CW's Jane the Virgin when she accepted a best actress Golden Globe for her work on the show. 
"This award is so much more than myself," Rodriguez said. "It represents a culture that wants to see themselves as heroes." She then thanked her parents for giving her the chance to dream. 
"Thank you to my mom and dad for telling me to dream and to never stop dreaming," Rodriguez continued. "My father used to tell me to say every morning, 'Today's going to be a great day, I can and I will.' Well, dad, today's a great day. I can and I did."
The Latinas of Twitter also can — and they did.