Kesha's Story Should Be a Warning to All Who Think Creative Freedom Is the Norm in 2015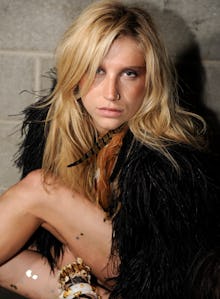 With every piece of news that leaks about Kesha's current legal situation, the more dire it seems. 
It started a year ago when Kesha Sebert filed a lawsuit against her former producer, Dr. Luke. She accused him of sexual assault, battery and sexual harassment. In the suit, Kesha claims Dr. Luke once drugged her with "sober pills" and raped her. He allegedly threatened to kill her dog and encouraged the development of an eating disorder Kesha was treated for in early 2014 by calling her "not pretty" and a "fat fucking refrigerator." 
Dr. Luke almost immediately countersued, claiming Kesha was orchestrating a public defamation campaign to try to get out of their contract. Since then, her career has been effectively frozen.
On Oct. 30, Kesha made her boldest play to try and break that contract so she could get back to releasing music, something she hasn't done since 2012's Warrior. "Kesha Rose Sebert wants nothing more than to be able to record an album," her legal representation stated in an injunction with an LA court. "Her only condition is that she be allowed to record with a record label that is not affiliated with someone who has emotionally and sexually abused her." 
Dr. Luke and Sony are reportedly "confident this motion will be denied," according to the Hollywood Reporter. The fact Kesha still cannot find a way out of this contractual tangle prompted Kesha's mother to compare her daughter's situation to slavery in a tweet posted Thursday.
Unfortunately, the contract Kesha signed as an eager high school dropout all the way back in 2005 is a lot more common than many would think. It's a reminder that in today's seemingly free and open pop landscape — where high-profile artists like Miley Cyrus can release free albums full of messy psychedelic sketches or Drake can drop a collaborative mixtape written and recorded in six days — major label contracts are still extraordinarily restrictive for artists that sign them. At the major label level, the pop music industry is small and far from free.
Kesha's "slave" contract: The portions of Kesha's deal that seem the most restrictive are actually extremely common in the pop world. 
"If you're going to sign to a major label, then you're going to sign to terms that are in their favor," as Jeff Rabhan, chair of the Clive Davis Insitute of Recorded Music at New York University and longtime artist manager, described it to Mic. Having exclusive rights to all an artist's recordings is "100% common," Rabhan says, as are contracts spanning six to eight albums.
"What happens historically is an artist signs a contract that's not in your favor, your record explodes, your career explodes and you renegotiate for better terms," Rabhan explains. "That's the way it's always been." 
Kesha is not the first to come forward to have her relationship with her label described as "slavery." Most notably was Prince, who performed throughout 1993 with the word "slave" written in all capital letters on his face. A major difference between Prince's and Kesha's situations is that she is reliant on Dr. Luke to help her record the kind of collateral that would make renegotiation possible.
"When you're signing a pop contract and you're not an artist who's known as a writer, you're reliant on people like Dr. Luke, writer/producers, to create your repertoire," Rabhan said. "This is a genre in particular where the producer and writer is the star, not the artist themselves. The artist — especially the female pop artist — has become the vessel for the artwork of writer producers."
Power dynamics: This arrangement lends itself to an extremely problematic power dynamic, one that Dr. Luke, born Lukasz Gottwald, apparently relishes. A 2013 profile of Gottwald in the New Yorker stated that his career's development has been marked by a move "towards increasing control over the process of creating and selling music. ... Dr. Luke needs to discover and develop his own superstars, so that he can participate in every aspect of their career. That's what he hoped to do with Kesha, but things weren't going exactly as planned." 
Kesha has been vocal about wanting to change up her style, against her producer's wishes. "I'd like to show the world other sides of my personality," she said in a 2013 Rolling Stone profile. "I don't want to just continue putting out the same song and becoming a parody [of] myself. I have so much more to offer than that." 
Unfortunately, to do so she has to gather together an entirely new team, something that's nearly impossible when dealing with Sony Records — an enemy few producers would want to make.
"The music industry is very small," John Kellogg, former entertainment lawyer and current assistant chair of the School of Music Business/Management at Berklee College of Music, told Mic.  "No other label is willing to try to sign her, because they could be sued by Dr. Luke for tortiously interfering in his contract."
Sony, it should be noted, also has equity in Spotify and Vevo and is currently in talks to create a partnership with SoundCloud. Kesha likely wouldn't even be able to find a way to distribute a hypothetical mixtape, as the Verge detailed in a recent piece, the same way Young Thug and Lil Wayne have both done while working out their own contract struggles. The innumerable user-friendly distribution platforms we enjoy today give the impression of transparency between artist and fan, but they're often not nearly as democratic as they appear.
The sexual politics in this struggle cannot be overlooked. Music is a male dominated industry, with an overwhelming portion of executives and over 90% of producers identifying as male. That kind of unbalanced dynamic has led to scores of unreported abuses. Lady Gaga said in a December interview with the Guardian that a producer raped her when she was 19. Photographer Terry Richardson is finally getting some blowback in the court of public opinion after years of allegedly abusing artists and models.
Kellogg sees the signs of this predator/prey relationship running through pop and sees leveling the playing field as a step towards a solution. "It's a matter of people being more sensitive; it's a matter of getting more female producers in the game," he said. "It's always a struggle, and we have to keep on struggling to get more females and minorities at the top levels to get more control over the music they're creating."
That future is, unfortunately, not likely to come soon. Too many people still profit from this unbalanced system to encourage a shift. Until there is change, artists — both male and female — will be putting themselves at the mercy of entities interested in making money at any cost. It's upsetting to see artists like Kesha become collateral damage, proving all the more why the industry must change.