The 'War on Cops' Is a Myth — And These 3 Men Are Its Poster Boys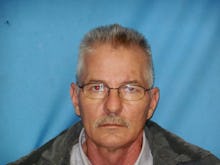 David Houser told a harrowing story the morning of Oct. 24.
During a traffic stop at 2 a.m., the former England, Arkansas, police officer encountered a man who pulled a gun on him, he told dispatchers. The man, Houser said, was Hispanic and in his 30s. He had fired one shot, grazing Houser's bullet-resistant vest, then peeled off down State Highway 15 as the officer returned fire.
Houser was uninjured. When he reported the shooting to the England Police Department, his colleagues alerted the Arkansas State Police, roped off the area as a crime scene and launched a manhunt for the suspected shooter. The incident seemed to reinforce fears of a so-called "war on cops" — a phenomenon touted by conservative pundits and police union heads whereby citizens across the U.S. were emboldened to commit violence against police officers.
There was only one problem: Houser's story wasn't true. Associated Press reported Nov. 3 that Houser, 50, had been fired and arrested by Arkansas State Police on suspicion of filing a false police report. The gunshot that grazed his vest? Apparently self-inflicted. The manhunt? Unnecessary, as there was, in fact, no shooter. 
Houser eventually admitted he lied about the incident, according to AP, though his motives remain unclear (the Arkansas State Police declined Mic's request for comment).
Statistics suggest the "war on cops" is a similarly unfounded myth. Fox News has pushed the narrative since at least May, with pundits like Sean Hannity blaming unrest in cities like Baltimore and Ferguson, Missouri, for a newly hostile environment for police officers across the country, highlighted by FBI statistics showing a rise in police fatalities in 2014.
"There is a war on police in America," Hannity told viewers, pointing to a nearly 89% spike in officers killed that year compared to 2013 (51 killed in the line of duty that year versus 27, according to the FBI). But a closer look at the report shows some important context: 2013 had the lowest number of police officers killed on duty in the past 35 years. The average number from 1980 to 2014 was 64 a year — 13 more than were killed in 2014.
Despite his distortion of the data, others have echoed Hannity's claim. Conservative commentator Patrick J. Buchanan bemoaned a "war on cops" in September. In August, presidential candidate Sen. Ted Cruz (R-Texas) spoke to a perceived vilification of law enforcement by President Barack Obama, whose alleged silence on recent police deaths "endanger[s] the safety and security of us all." Articles from the conservative site Breitbart scream "war on cops" with some regularity.
Yet statistics suggest 2015 is on track to be one of the safest years on record for police officers. According to the Washington Post — citing data analyzed by Mark A. Perry at the American Enterprise Institute — this year's police deaths are on pace to hit 35 by year's end, the second-lowest number of officers killed in a year in decades. Cases like Houser's in Arkansas then stoke fears of a phenomenon that isn't actually happening. 
Even FBI Director James B. Comey said at a gathering of police officers last month that a recent spike in violent crime was linked to protests sparked by video recordings of police misconduct. But when pressed to elaborate, Comey said there is little proof of his observation, though he does "have a strong sense" about it. "The question is: Are these kinds of things changing police behavior around the country?" he said. "The honest answer is: I don't know for sure whether that's the case."
Perhaps even more troubling is that Houser wasn't alone. Since the beginning of September, at least two other police officers in the United States have been accused of lying about the circumstances that led to them being shot or fired on.
On Sept. 2, former Millis, Massachusetts, police officer Bryan Johnson allegedly fired a personal firearm at his own patrol vehicle then drove and crashed it into a tree, according to Boston ABC affiliate WCBV. Johnson, 24, then allegedly exited the vehicle and fired another series of shots, severing a fuel line and causing the car to be engulfed in flames.
The officer then radioed Millis dispatch that he'd come under fire from a white man in a maroon pickup truck. In response, local police launched what the Boston Globe described as a "massive manhunt," involving SWAT teams, helicopters and manpower from many local police departments. Investigators say none of what Johnson reported turned out to be true, however, and he was let out on $10,000 bail following an arraignment a week later.
The case that's drawn attention most recently is that of Lt. Joseph Gliniewicz of Fox Lake, Illinois, who patrolled the village 50 miles north of Chicago. On Sept. 1, Gliniewicz told a dispatcher he was pursuing three suspicious individuals on foot, according to the Guardian. Gliniewicz, 52, was found dead of a gunshot wound to the chest shortly after.
Months later, after conservative pundits rallied around the officer's apparent murder — linking it, again, to the so-called "war on cops" — it has been revealed that Gliniewicz faked his shooting, having actually died by suicide. Investigators said he'd fabricated the circumstances around his death after allegedly embezzling thousands of dollars from a local youth program and possibly trying to hire a hitman to kill a city administrator who was auditing the department.
The myth: These three men — Houser, Johnson and Gliniewicz — illustrate the shortcomings of the "war on cops" myth. Their shootings bolster a narrative of harried police officers and violence spurred by anti-law enforcement rhetoric which, at the end of the day, simply does not hold under scrutiny.