We Can't Stop Idolizing French Women — So I Tried Actually Living Like One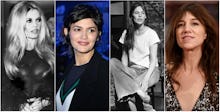 French women do everything better. They don't get old, they don't get fat, they have an innate sense of style, they have perfectly undone hair. They don't even need to wear makeup or work out. 
At least that's what a whole genre of popular books, articles and blogs would have us believe. Some are penned by French women themselves, while others are authored by aspirational Americans admiring their peers across the pond. Americans idolize French women, particularly of the Parisian variety, for their seemingly effortless and enviable lifestyle, and this pursuit of foreign chic has spawned a veritable cottage industry of "live like a French woman" writing.
Yet the admiration can reach the point of parody. We live in an era of intense self-scrutiny, fueled by Instagram and Facebook, in constant pursuit of that perfectly curated life founded on an ideal set of lifestyle solutions — the right food, makeup, fitness routine, wardrobe. That makes life a la parisienne a highly appealing package. But can a whole nation of women really have a perfect life formula to offer?
Armed with the latest entrant into the genre, Love x Style x Life by popular style blogger, illustrator and photographer Garance Dore, I delved deep into the online archives in an attempt to follow in the red-lipped footsteps of women like Jeanne Damas, Charlotte Gainsbourg and Lou Doillon for seven days — and to see if there really was a consistent "lifestyle" at all among these famous icons. 
I prepared by ordering a glass of red wine and fries for dinner — because French girls aren't afraid of carbs, right?
1. "Effortless" skin and makeup takes some effort, but the result is simple.
French girls supposedly possess a slightly undone beauty, based on looking fresh and not trying too hard. For skincare, that means simple, preventative steps using French pharmacy products that don't cost a fortune. 
Clemence, a stylist from Paris, told Refinery29 in an article titled "Do French Girls Really Do Beauty Better?" that she uses a face mask in the shower every morning. Well, Clemence, I bow down to your skills, but I couldn't work out how to keep a mask on while the tap was running. Instead, I applied it after the shower.
As a result of this intense daily hydration, my skin broke out in a smattering of spots in the first 48 hours, with a nice big one settling in on my chin. But around day four, I caught sight of my reflection in the mirror. My skin looked... good. If not glowing, then at least not like I had watched five episodes of Scandal the night before.
Which was lucky, because those fresh-faced filles don't wear much makeup. After following "The French Girl Beauty Rules" according to Vogue, my entire beauty kit consisted of just red lipstick and BB cream, with a bottle of the all-important perfume, which I learned about from Allure's "How To Smell Like A French Girl," thrown in.
The lipstick is particularly important, a real "fashion accessory," according to Dior makeup artist Violette (who obviously goes sans surname). But with just lips painted on, I looked washed out, my under-eye circles and colorless cheeks especially prominent. Thankfully, French makeup artist Laura Mercier's advice to pat on the lipstick helped achieve a more natural-looking pout, and Damas' trick of swapping mascara in favor of thin black liner on my upper eyelids helped my eyes fight for attention from my red lips. 
Voila — fresh-faced and faking it... with a pretty good amount of effort.
2. Not everyone's hair looks better messy.
The women who embody the French ideal all have the same kind of hair — that shaggy, messy, "I woke up like this" hair. I, on the other hand, have a spiraling mass of curls that gives the impression of having spent the night camping rather than languidly making love and talking philosophy in a Left Bank loft. But, following an online guide to "'French Girl,' Model-Off-Duty Hair," I vowed to use only shampoo in my hair, let it air-dry overnight and work with whatever happened. Without using a brush, naturellement. 
What happened was a wild, untameable disaster. Half my hair lay flat and frizzy where I had slept on it. When How to Be Parisian Wherever You Are author Caroline de Maigret said sleeping on your hair gave it an "interesting shape," I don't think this was what she had in mind.
An alternative to the messy hair is to follow Audrey Tautou and go the bob route. So I gave myself a fake bob, pinning my hair around my jaw to emulate her choppy style. It took just two minutes, five bobby pins and a quick mist of hairspray. And I actually kind of liked it; it was casual yet chic, and suggested I had bigger things to worry about than my hair — not true in this case, but the entire point of the French aesthetic.
3. Wearing the same thing every day is boring, but indeed easier.
The Internet tells us the French are the queens of the "capsule": They buy only about one new item a month, never purchasing anything that doesn't match everything else they already have. The building blocks of an outfit tend to be pure basics — T-shirts, jeans, ankle boots — and should be in muted shades, with plenty of Yves Saint Laurent-approved black. Clothes must never overshadow the person wearing them. Studying pictures of the likes of Clemence Poesy and Lou Doillon, it's clear the fun of French fashion lies in the extras, like le smoking tuxedo jackets and gorgeous handbags.
So I put together my capsule wardrobe for the week: two long-sleeved turtlenecks (channeling the likes of Catherine Deneuve and Brigitte Bardot), two sleeveless turtlenecks (Marion Cotillard also endorses the chin-grazer), two pairs of jeans, an A-line skirt, a black blazer, a cream blazer, a biker jacket and a pair of ankle boots. As Caroline de Maigret put it in Harper's Bazaar's "The One Thing That Makes You Look Like a Parisian": "I go to American Apparel to get all the basics, and then one very nice jacket."
Uniform dressing has been getting good press recently, and I can see why. It was painless getting dressed in the morning (besides, you can't spend long choosing an outfit when 15 minutes of your morning is given over to a face mask). The first day of the experiment I met an actual French person (!), and we were wearing the same thing, right down to the Zara blazer, though she out-Frenched me with a piquant glimpse of fishnets where her jeans met her shoes.
That said, the French wardrobe felt a little generic and a bit too safe. These are not statement clothes. The French wardrobe whispers, so you'd better hope your red lips do all the talking.
4. Eating whatever the hell you want is, actually, fantastic.
Ever since Mireille Guiliano wrote French Women Don't Get Fat back in 2004, the world has marveled at the Franco-paradox: Our Gallic friends eat fatty foie gras and carb-filled croissants while chugging back a glass of red wine a day, seemingly without contracting the heart disease or gaining the weight that afflicts most of the Western world (though obesity levels are rising in France). 
"Is this the best diet ever?" I wondered, writing down my shopping list for the week. Every day I had a croissant and a cafe au lait for breakfast and the occasional yogurt (Giuliano is obsessed with the weight loss benefits of yogurt). I was allowed one or two glasses of red a day (OK, three on the weekend) and a couple of squares of dark chocolate after dinner. 
French women consume all these goodies in moderation, which seems to be a key reason so many of them stay slim. They also eat salads and soups and steer clear of fried foods, which I managed to do for most of the week (the quesadilla swimming in grease was a Saturday night inevitability).
What did I learn on this glorious diet? That I actually don't need to snack — I drank water when my stomach rumbled mid-afternoon — and that starting the day with a proper breakfast meant I wasn't hungry until lunchtime. Plus, knowing that I got to have some treats (wine, chocolate, cheese) meant I didn't ruminate on my diet. When friends talked of new regimes, I did very Gallic eye rolls. And by the end of the week, I felt my jeans hang a little looser. 
5. Not stressing out about exercise is a revelation.
"Why would I pay a fortune to suffer?" asked model, muse, fashion designer and ultimate French person Inès de La Fressange in her lifestyle "guide" on Into the Gloss. While the American ethos demands you push yourself as hard as physically possible — sweat that little bit more, crank out one more rep — the French take a relaxed, almost zen-like approach to exercise. Gainsbourg calls Ashtanga yoga "a guilty pleasure," so I signed up for two classes.
There is no word for athleisure in French. Parisian-by-choice Lauren Santo Domingo says Lycra is not for public consumption, so I didn't wear my workout clothes to class. I had to rush to change out of my blazer and boots while waving madly at the teacher when I arrived late, but I liked looking like a grown-up on my way to and from. Coco Chanel reportedly said you should always be dressed for destiny. I don't know if destiny has ever called on anyone in sweatpants. 
My yoga classes made me sweat just a little, but I felt wrung out in a good way, not in that "Is it normal for my heart to beat so fast when I'm not even 30?" way I associate with spinning. Exercise that works with the body, stills the mind and doesn't require dumbbells is the kind to get on board with.
I also walked thirty minutes to yoga because Parisians walk everywhere (that's how they eat croissants, right, Ines?). But I got the train on the way back, because I need to stop off at the wine shop. Gainsbourg would have done the same thing. 
When it comes down to it, trying to live a "French lifestyle" means not trying so hard at all: Not all French women live one way, of course. But the stylish icons — the actresses, models, authors — do seem to share certain "lifestyle" habits. And plenty of those habits can simplify and thus enhance an otherwise overwrought life.
Red lipstick alone doesn't always cut it, and we can't get all our nutritional needs from croissants. But the intense American worship of their French counterparts is rooted in some realities: My week of living French forced me to take time for myself with small treats (wine, chocolate, wine), and it cut out stress from decisions (getting dressed, choosing meals) that don't necessarily need to be stressful.
Most of all, it allowed me to see the error of certain ways. Self-care doesn't have to mean sweat and competitive gym selfies (in fact, cool French girls fill their Instagrams with book covers and kids and city scenes, not themselves). Beauty doesn't mean fixing, concealing, contouring, but instead positive prevention and making the most of what's there.
That's easier to do, of course, if you're a skinny, clear-skinned, glossy-haired Parisian with cash to spare, like many of the singers, actresses, makeup artists and "muses" we idolize from afar. But if you're not, you can still crank up Doillon's latest album and ask: "Everything's been done by everyone before, is there room for one more?"