Here's What You Need to Know About the University of Missouri as Protests Escalate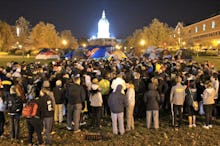 Nov. 9, 2015, 11:15 a.m.: Tim Wolfe announced he is resigning as UM System President.
As the story of Jonathan Butler, the 25-year-old University of Missouri graduate student who is on a hunger strike in an effort to oust the university system president, continues to gain steam, a growing number of faculty members and student groups have signaled their support.
Butler, who announced the dramatic step in an impassioned statement posted to Twitter, has accused UM system president Tim Wolfe of consistent failure to address racial issues on campus and a lack of understanding toward black students. "It's time for change," he wrote with the hashtags #MizzouHungerStrike and #ConcernedStudent1950, the latter a reference to the year the first black students were admitted to the university. He signed his statement, "A Black man who believes in freedom."
The triggering incidents: In just the last 90 days, the Mizzou campus has been rocked by a series of racial events that many have accused school leadership of allowing to go unexplained, under-investigated or both. In September, the student body president, Payton Head, who is black, was harassed near the campus and repeatedly called a "nigger." Eleven other students, members of the school's Legion of Black Collegians, were also called the slur by a white student, while campus security that witnessed the incident reportedly did nothing. In October, a swastika painted in human feces was found on a dorm wall. 
Wolfe also faces pressure off-campus, with the Democrats of the Missouri statehouse calling for his resignation. "It has become increasingly clear in recent days that UM System President Tim Wolfe is not the person to tackle the university's racial problems and build a future for the institution that all Missourians can be proud of," Assistant House Minority Leader Gail McCann Beatty wrote in a statement to the Columbia Missourian. "For the good of the UM System, President Wolfe needs to step down without delay, and the Board of Curators must immediately address the demands of minority students."
The faculty steps up: On Sunday, a Twitter account called Concerned Faculty issued a statement saying that a number of teachers at the Columbia campus would cancel classes and hold a public "teach-in" at the school's Carnahan Quadrangle on Monday morning.
"We, the concerned faculty of the University of Missouri, stand in solidarity with the Mizzou student activists who are advocating for racial justice on our campus and urge all MU faculty to demonstrate their support by walking out on Monday, November 9, and Tuesday, November 10, 2015 along with other allies such as the Forum on Graduate Rights," Concerned Faculty wrote.
Mizzou Tigers join the fight: The UM athletic department issued a statement Sunday: "After meeting with the team this morning, it is clear they do not plan to return to practice until Jonathan resumes eating." In his original statement, Butler wrote, "I will not consume any food or nutritional sustenance at the expense of my health until either Tim Wolfe is removed from office or my internal organs fail and my life is lost." More than 30 Missouri football players took their demands one step further, saying they will refuse to participate in practices or games until Wolfe is terminated, USA Today reported. 
Wolfe speaks from the hot seat: On Sunday, the system president issued a sympathetic statement acknowledging that there are problems to address on campus and promising that the school was in the process of implementing a "systemwide diversity and inclusion strategy." There was, however, no mention of Butler's hunger strike, nor was there suggestion of Wolfe's resignation. "I am dedicated to ongoing dialogue to address these very complex, societal issues as they affect our campus," the system president wrote. Wolfe did address Butler's actions directly in a statement released last week.
Wolfe's message ultimately did little to temper the situation. The Coalition of Graduate Workers denounced the words as doubling-down on "business as usual." In conjunction with the Forum on Graduate Rights, the group announced that it would support a walkout among all graduate student workers on campus on Monday and Tuesday. "Removing Tim Wolfe will not be the end of our fight, and we will continue to organize as workers to ensure a more equitable University community," it wrote. 
There were growing signs Monday that the Board of Curators were planning to do just that, calling a meeting for 10 a.m. Central on Monday where Wolfe's fate may ultimately be decided.