Shooting Near New York's Penn Station Leaves Two Injured and One Dead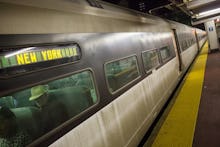 Two people were injured and one was killed in a shooting near Manhattan's Pennsylvania Station during rush hour on Monday, Fox News reports. The status of the shooter remains unclear. 
The shooting occurred at roughly 6:15 am, reportedly began at a McDonalds on Eighth Ave. between 34th and 35th Streets, the New York Police Department told the New York Times, and escalated to the sidewalk near the subway station on 35th street and Eight Ave. before the men headed inside the station where the shots were fired.
A 48-year-old was shot in the leg and a 45-year-old man was wounded in the neck and stomach, the New York Times reported. Both were rushed to the hospital with injuries not considered life-threatening, the Associated Press reported. The fatally injured victim was a 43-year-old man, according to the report. It's unconfirmed whether the three victims knew each other, though detectives believe they did. Police told the New York Times it didn't seem the shooter previously knew the victims and that there were no surveillance cameras at the scene.
Two members of a nearby West Midtown Medical Group methadone clinic told the Associated Press that they know one of the injured victims and the killed victim, both of whom they said attended the center for years. 
"This kind of thing doesn't happen over here," 39 year-old Michael Gessow who said he's attended the clinic for 10 years, told the Associated Press. "There's a group of us here that don't let things like this go down here. They were real nice guys, straight guys. I can't believe it."
East 35th street and the entrance to the 35th street subway station were both blocked off and lined with police cars following the shooting on Monday morning.
The gunman is still at large and may have fled the scene in a car. All further details are under investigation. 
Nov. 9, 2015, 10:15 a.m. Eastern: This story has been updated.