A Photographer Just Schooled Us on Why We Need to Put Our Damn Phones Away at Weddings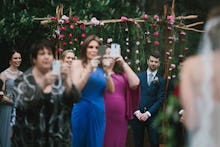 If you've ever been to a wedding and wondered if your amateur iPhone snapshots were low-key pissing off the photographer who was hired to take non-amateur professional photos for the event, wonder no more: They probably are. 
This revelation comes from Australian wedding photographer Thomas Stewart, who finally reached his wit's end and decided to utilize his Facebook page to give us all a lil' PSA on wedding photo etiquette, urging newlyweds to "please have a completely unplugged wedding ceremony."
Why? This photo says it all:
In his plea, Stewart shares four distinct reasons why it's time for all couples to finally embrace a phone-free approach, wedding hashtags be damned. The first: "Guests with phones, iPads and cameras get right in your photographer's way," he wrote. "We cannot do our best work with people getting in our way."
Beyond being all up in the photographer's grill, Stewart added in the post on Facebook, "These same guests will get in your way," and that the photos they wind up snapping "are usually crap" anyway. (Which, let's be honest, they are; even Hefe can't save the drunken works of nonart taken by cocktail-slinging wedding guests.)
But his key takeaway is that having a wedding with a sea of plugged-in guests takes everyone out of the moment of what should otherwise be a joyous, celebratory occasion with all involved.
"Imagine you're in the middle of your wedding ceremony. You're elated. You decide to take a quick glance towards your guests as you're sure they're sharing these happy moments with you, possibly even shedding a tear of their own. What do you see?" Stewart wrote in the post. "No faces at all as they are all hidden behind phones and cameras! I highly doubt this is the way you want to remember your wedding ceremony." (Mic has reached out to Stewart for additional comment.)
The unplugged wedding trend: Indeed, plenty of couples have already discovered the joys of the unplugged wedding, with some opting to have "smartphone baskets" in which guests are encouraged to dispose of their beloved devices for the duration of the event. Many of them share Stewart's concerns.
"As a photographer myself, I know how the act of being behind the lens can distance me from the energy of the moment — I become an observer and interpreter and no longer a true participant," said one bride to Offbeat Bride back in 2011. "We want our guests to experience our ceremony in a way you typically can't do when you're staring through a viewfinder or fiddling with your iPhone."
The idea of detaching from our smartphones for an entire evening might sound like it could lead to an existential "If I don't Instagram it, did it even really happen?" crisis. But it's hard not to feel for Stewart's impassioned Facebook rant. And besides, if there's one event you'll go to that's totally not about you (or your Insta), it's the wedding of a loved one.
In Stewart's words, "You are witnesses to their marriage, so for goodness sake, watch them with your eyes and your minds, not your phones."
h/t Cosmopolitan
Get more stories that help you rethink the world by signing up for our daily email newsletter.