This Salon Is Helping Homeless Women Feel Beautiful, One Haircut at a Time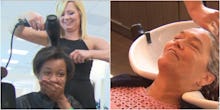 Getting a haircut can mean leaving a beauty salon with a new attitude. But it can also be a pricey experience.
One salon in Boston is cutting that price factor by offering free haircuts one day a month to women who are homeless, CBS in Boston reports. The Women's Lunch Place, a shelter and organization that supports women experiencing homelessness or poverty, has been partnering with Green Tangerine Salon & Spa for the service, according to Refinery29.
The free haircuts have been going on one day a month for the past year, with 12 to 15 women going in for the special treat, Lorraine Anderson Levine, the director of development at the Women's Lunch Place, told Mic. The experience fits the philosophy of the Women's Lunch Place, which aims to treat all women with dignity. Levine said that the salon offers snacks and coffee to the women, who regularly chat and compliment one another on their new looks. 
"They make a whole ice day of it," she said. "When your hair is washed and blow-dried, it just makes you feel so much better about yourself."
A hair "trend" worth spreading: That insight is one that more and more hair professionals have been taking to heart. This summer, news of "The Streets' Barber" began circulating after the site Plgrm published a video profile on a man who gives free haircuts to the homeless. The Australia-based barber, Nasir Sobhani, cruises the streets of Melbourne on his longboard one day a week, seeking potential clients for a free haircut and shave.
"When I approach them, I go really simple: 'I want to do something nice for you today.' You know, I kick it off like that. And they kind of stop and they're like, "What's up?" Sobhani told Cosmopolitan. He documents his experiences on Instagram, often including a short bio for each client.
Rudy Ibanez, a barber in San Antonio, Texas, also began offering free haircuts this year to the homeless men and women in the city. The 21-year-old told GQ that he likes to drive around in his car once a week, often picking someone in need up and giving them a lift straight to the salon. The haircuts often get big reactions from friends of the client, Ibanez told GQ, adding, "There's a lot of smiling."
Mark Bustos, another hairstylist who embarked on a year-long journey in 2014 to offer free cuts to men and women living without a home, relayed a similar sentiment.
"Whether I'm giving one at work or on the street, I think we can all relate to the haircut and how it makes us feel," he told the New York Times.
And there are increasingly more examples of other hairstylists doing the same.
Salon haircuts often come with a steep price, particularly for women's hair, since it usually requires more maintenance, washing and drying than men's hair does. As a result, such maintenance can fall into the category of "personal luxury" for the average person, not to mention someone facing poverty or homelessness.
But a haircut can make a big difference, in practical terms — a tidy look can be crucial for someone going for a job interview — but emotionally as well. A haircut might not solve the long-term problem of homelessness, but it can certainly help boost the self-esteem of the men and women who get them. In the end, the women at the salon in Boston walk out with a different attitude.
"It's so important because that makes them walk taller and feel good," Louise Rusk, the owner of Green Tangerine Salon & Spa told Refinery29. "They walk out of the salon differently than they walk into the salon."
Levine of the Women's Lunch Place said that at the end of the day, it's about the small ways that show the women they matter.
"We just try to be a bright spot in people's day and give them a feeling that they're important," she said.
h/t Refinery29