Illinois Medical Marijuana: List of Dispensaries Where Patients Can Legally Buy Weed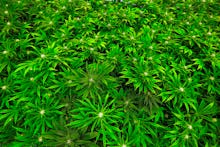 Monday marks a turning point for the legal sale of medical marijuana in Illinois as approved dispensaries await their first cannabis deliveries after state regulators gave growers the green light to start shipping late last week. Illinois' first marijuana sales are expected to begin Monday. 
Illinois was the 20th state to legalize medical marijuana when, in August 2013, former Illinois Gov. Pat Quinn signed the Compassionate Use of Medical Cannabis Pilot Program Act. The bill went into effect Jan. 1, 2014, according to RT.
According to the Medical Cannabis Alliance of Illinois, seven dispensaries have received final approval from state regulators to sell medical marijuana. The care centers are located in Addison, Marion, Mundelein, Quincy, North Aurora, Schaumburg and Ottawa. Here's a list of the names of those centers and their locations. 
As of Monday, retail locations in Addison, Canton, Marion, Mundelein and Quincy, confirmed inventory and ability to begin serving patients, according to the Chicago Tribune. 
Twice a year, the Medical Cannabis Advisory Board reviews petitions from Illinois residents seeking approval of a medical condition to qualify for a Medical Cannabis Registry Identification Card, which patients are required to present when purchasing cannabis. The board reviews petitions from Jan. 1 to Jan. 31 and from July 1 to July 31, according to the MCAI. Per the National Organization for the Reform of Marijuana Law, here's a list of qualifying conditions for patients in Illinois seeking treatment via medicinal marijuana, though that list may be amended in time according to the MCAI. 
"The MCAI strongly believes that every Illinois resident, who suffers from a painful or debilitating ailment, has the right to seek medical cannabis as an alternative treatment provided that with they obtain the approval of their physician," the MCAI said in a statement. "Illinois residents may petition the Illinois Department of Public Health to add new debilitating medical conditions to the current list of debilitating medical conditions that were set forth in the Compassionate Use of Medical Cannabis Pilot Program."
The MCAI offers guidance for patients looking to apply for an ID card and explains qualifying conditions and barriers to access, which can be stricter than in other states. According to the MCAI, as part of Illinois' Compassionate Use of Medical Cannabis Pilot Program, patients are required to undergo a background check, which is typical in those states where medical marijuana is legal, but Illinois is the only state where regulations require patients be fingerprinted. 
Yet even so, MCAI says it has already helped hundreds of patients in Illinois successfully apply for ID cards. Per the Chicago Tribune, Illinois' first ID cards, which currently number about 3,300, were mailed on Oct. 30.
To date, 23 states and Washington, D.C., have legalized medical marijuana. Four of those states — Alaska, Colorado, Oregon and Washington — also legalized the recreational use of cannabis.