Tag Heuer Connected: Price, Features and How to Get Luxury Android Smartwatch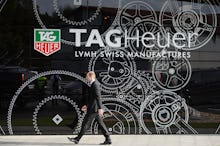 On Monday, Swiss luxury watch-maker Tag Heuer released its first-ever connected device, the Tag Heuer Connected. The Neuchâtel, Switzerland-based company unveiled the watch during a live-streamed press conference that began at 11 a.m. Eastern via YouTube. 
The new device, which reportedly costs $1,500, puts the luxury designer in the ring with Apple, though the Apple Watch, which starts at $349, is significantly cheaper. According to Tag Heuer chief Jean-Claude Biver, the smartwatch will be available at 20 retail locations in the United States beginning at 12 p.m. Eastern, the watchmaker CEO said during Monday's press conference.
In a post to Instagram prior to the launch event, the company stressed that the release marks a "new chapter" for its ties to Silicon Valley, the heart of the U.S. technology industry located outside San Francisco. Speaking at the press conference, Biver called the device "the marriage between Watch Valley and Silicon Valley."
Features: In partnership with Intel and Google, Tag Heuer's new device will run on Android as an operating system. According to WT Vox, the smartwatch's battery can hold a charge for up to 40 hours. Equipped with a case made of titanium carbide-coated steel, the watch strap comes in a choice of six colors.
Prior to the press conference and to give consumers a sense of what to expect, Biver said in an interview with Swiss publication Le Matin that the Swiss smartwatch has "almost the same functions as an Apple Watch." Without explaining its functionalities further, Biver added, "I don't want to divulge too much."
High-profile endorsements: The watchmaker has signed no shortage of high-profile athletes to represent its brand in past years. And most recently, in October, the watchmaker brought on New England Patriots quarterback Tom Brady as an ambassador for the brand. 
"I am thrilled to be part of the Tag ambassador team," Brady said in a release. "I have always admired the craftsmanship of a luxury timepiece. ... The first nice watch I purchased was a Tag. So, it looks like I've now come full circle with this admired company."
Here's a promotional video from the luxury watchmaker featuring multiple cutaways of Brady's face. 
Correction: Nov. 9, 2015