A Man Flying Around the Statue of Liberty in a Damn Jetpack Is Almost Too Cool to Be Real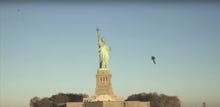 Remember when you were 13 years old and your greatest ambition in life was to own a shiny, all-powerful jetpack? David Mayman and Nelson Tyler do. The difference between you and them? They actually made it happen.
Mayman and Tyler are the masterminds behind JetPack Aviation, a company that bills itself as the creators of "the world's only true jetpack," the JB-9. And in a video posted online on Nov. 3, Mayman took it for a spin — around the Statue of Liberty. 
"We believe a JetPack should be just that — a jet turbine-powered backpack that is capable of vertical takeoff and landing (VTOL), is extremely light and small and can easily be carried around by the pilot," the website says. "It should be powerful enough to lift the pilot quickly to thousands of feet above the ground but small enough to fit into the trunk of a car."
According to the company, "the JB-9 is small enough to sit in the back seat of a car but powerful enough to fly thousands of feet high." JetPack Aviation has been around since the 1970s, and it has had a number of different prototypes.
In the video, Mayman is seen flying high above the Hudson River and all around the Statue of Liberty, while boats dot the water below him. 
Mayman has long been involved in start-ups and the technology sector, while Tyler is an Academy Award-winning designer who built a civilian rocket belt that flew during the opening ceremony of the 1984 Olympics.
"It was an incredible experience, one I have been dreaming of since I was a young boy," Mayman told Entrepreneur. "We have just proved that personal flight is a reality. It's here and we will stay at the forefront of this."
Watch the full video below: