New York Comedy Festival 2015: Date, Schedule, Performers and Ticket Info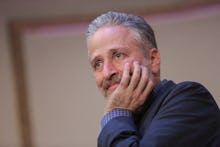 The New York Comedy Festival 2015, an annual five-day comedy event kicking off Tuesday, will feature performances from over 200 comedians, including such big names as Seth Meyers and Jon Stewart but also up-and-coming comedians at venues throughout New York City, according to the festival's website. 
This year's New York Comedy Festival lineup includes a variety of stand-up comedy events, writers' round tables, screenplay readings and a debate Wednesday between "Donald Trump" and "Bernie Sanders" performed by comedians Anthony Atamanuik and James Adomian. Comedian Margaret Cho will perform at Town Hall on Wednesday in a special called "There's No 'I' in Team but There's a 'Cho' in Psycho."
The performances will take place at over 20 venues, including Brooklyn Bowl and Carnegie Hall, throughout all five boroughs of New York City. A full list of venues and scheduled performances is available on the festival's website. 
"It's basically Comedy Coachella, without all the flower crowns and dehydration risks," a description on the website reads. All shows are available to the public, but the site recommends purchasing a Fan Pass that allows attendees to skip the line. Unfortunately, those passes are limited and seem to be sold out. Attendees don't need a pass to attend any of the shows. 
Since Comedy Central launched NYCF in 2004, it's featured performances from a plethora of underground and mainstream comedians. The 2014 lineup included Amy Schumer, Hannibal Buress, Dane Cook, Bill Maher and Tig Notaro among many others.