Ray Rice Offers Surprisingly Insightful Comments on Greg Hardy's Domestic Violence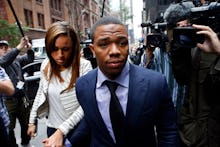 NFL player Ray Rice was arrested and charged with assaulting his wife in February 2014. While some on the Baltimore Ravens initially defended their teammate, Rice's NFL contract was terminated after video of the incident surfaced. Now a free agent, it seems that these punitive actions may have led Rice to understand the magnitude of his actions.
When asked about the photo evidence published Friday of Dallas Cowboys defensive end Greg Hardy's physical abuse of his ex-girlfriend, Rice argued that claims of domestic violence should be taken seriously regardless of photographic evidence.
"It really shouldn't take photos or anything to understand the severity of domestic violence," he told ESPN's SportsCenter on Sunday. "It happens every eight seconds, as we speak." Rice then offered his condolences to all domestic violence survivors.
"I totally understand what my visual did and the effect it had on society and the survivors of domestic violence," Rice said. Rice added that he takes "full responsibility" for his actions and now has "made a lifelong decision" to raising awareness about this issue, in no small part out of consideration for his own daughter as well as the fact that parents dissuading their children from looking to him as a role model "haunts" him.
Addressing domestic violence in sports. Between 2006 and 2014, 50 domestic violence cases were pursued against NFL players, USA Today reported in 2014. However, 14 of these cases yielded only minor suspensions (usually just one game) and 16 cases didn't warrant any suspension at all. Fifteen players — mostly marginal players — were not resigned to NFL teams after their arrests, according to USA Today.
While NFL commissioner Roger Goodell wrote in a letter to NFL owners that they "had to do better," many have argued that the league's concerted efforts to address domestic violence have been few and inadequate. Rather than implement preventative measures, for example, the league has responded retroactively, Mike Tanier argued at Bleacher Report. One representative from the National Network to End Domestic Violence told Refinery29 that training imparted to new players is "far too brief to have real impact."
It's time for change. Rice's comments join what seems to be a growing chorus of industry insiders calling for change. Katie Nolan, host of the Fox Sports show Garbage Time, has spoken out in several notable segments about both Rice and Hardy's unacceptable acts as well as the NFL's mishandling of them. In October, former player Terry Bradshaw also made his disgust with the previous tolerance for domestic violence known.
"Anybody, in my opinion, who lays a hand on a woman, I don't care who you are, my friend: You never come back in this league," Bradshaw said during one Fox NFL Sunday pre-game show, according to the Huffington Post. "I really, really seriously hope, eventually, we never have a place in the NFL for people who ... strike a woman,"
Hopefully, other players — and the NFL at large — will heed these calls and truly commit to addressing the violence that pervades their organization and, in doing so, set an example for their millions of viewers and fans.
h/t Uproxx