Mumford & Sons Tour 2015: Tour Dates, Cities and Ticket Info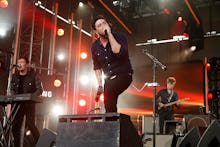 On Monday, indie folk rockers Mumford & Sons announced dates and locations for their upcoming "An Arrow Through the Heartland" U.S. tour, which kicks off in April. 
The British band's tour will support of Wilder Mind, Mumford & Sons' third LP released in May, and subsequently climbed to the top of Billboard U.K. album charts.
"Touring the United States of America in many ways fulfills the childhood dream of what touring might be like," the band's keyboardist, pianist and backup vocalist Ben Lovett wrote in a release. "Rolling from one great city to the next, each with its own personality and uniqueness whilst remaining familiar enough at the same time. Waking up every morning with a conversation amongst us about who wants to visit 'that' bookshop or 'the' ultimate music shop or whatever the various cities had to offer.
"And on this note, we're very excited to announce some new tour dates for 2016... Hope you can make it!"
For a full list of tour dates click here. Tickets can be purchased via the band's web page, and presale begins 10 a.m. local time Wednesday. Ticket shoppers are required to sign up for Mumford & Sons' newsletter in order to access presale tickets. General sale for tour dates will begin at 10 a.m. local time Friday. 
Wilder Mind track list:
1. "Tompkins Square Park"
2. "Believe"
3. "The Wolf"
4. "Wilder Mind"
5. "Just Smoke"
6. "Monster"
7. "Snake Eyes"
8. "Broad-Shouldered Beasts"
9. "Cold Arms"
10. "Ditmas"
11. "Only Love"
12. "Hot Gates"