Justin Bieber Reveals "What Do You Mean" and "Sorry" Are About Selena Gomez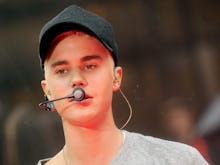 In honor of pop star Justin Bieber's latest album Purpose dropping on Friday, Ellen DeGeneres has dubbed it Bieber Week on her talk show  — and what better way to kick it off than with Justin Bieber spilling about ex-girlfriend Selena Gomez?
On Monday's episode of Ellen, DeGeneres pressed Bieber on some personal topics, including the nude paparazzi shots that recently went viral and, naturally, Gomez. When the host suggested that two of Bieber's latest singles are about Gomez, Bieber copped to it. "'What Do You Mean'... yes [is about Gomez], and 'Sorry'... a little bit," Bieber, 21, revealed.
He also said the unreleased single "Mark My Words" is about his famous ex-girlfriend. And appropriately, a snippet of the song's lyrics available Genius suggest the possibility of a reunion. "Trying to rekindle us/ Only to lose yourself/ Well I won't let me lose you/ And I won't let us just fade away." 
"Do you think [you and Gomez] will ever get back together — is that a hope for you?" DeGeneres asked. 
"Um, maybe," he replied. "I mean we have a lot of history together so I'm sure, I mean it possibly can happen, but I think we're both just on our own journeys of figuring ourselves out, and I think maybe once we figure ourselves out we can come together and make an awesome duo, or she'll find someone awesome and I'll find someone awesome."
And his response to those pics? "It wasn't as, like, bad as I thought it was going to be." 
Said DeGeneres, "I'm no expert but I heard that it was good."
Bieber's latest music video, the single for "Sorry," was unveiled on Oct. 22. 
Correction: Nov. 9, 2015