Sia New Album 2015: Release Date, Singles and News For 'This is Acting'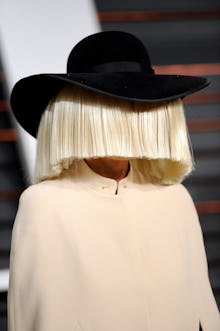 On Saturday, in anticipation of the release of her new album, This Is Acting, Australian singer-songwriter Sia debuted two songs, "Bird Set Free" and "Alive," during her stint as musical guest on Saturday Night Live.
Continuing her tradition of hiding behind a variation of creative veils, the "Chandelier" obscured herself under a half-black, half-blonde wig and false eyes.
Both singles are available to download on iTunes and to stream via Apple Music, and the album is slated for a Jan. 29 release. On Thursday, the music video for "Alive" went up on Sia's YouTube channel; the video features a young girl putting her martial arts skills on display, all the while peering out from beneath a wig inspired by Sia's signature pageboy. 
In a Februrary interview with NME, Sia explained that "Alive" was originally written for Adele, and that her upcoming album is, in fact, comprised of songs she wrote for other performers. Sia, whose full name is Sia Kate Isobelle Furler, has composed songs for Kanye West, Eminem and Rihanna, among others, according to NME.
"[The new album] is much more pop," Sia told NME. "I'm calling it This Is Acting because they are songs I was writing for other people, so I didn't go in thinking, 'This is something I would say'. It's more like play-acting. It's fun."
According to iTunes, the LP — Sia's seventh studio album — will feature 12 tracks. The artist's previous LP, 1,000 Forms of Fear, came out in July 2014.