Le1f May Talk Race, Class and Trans Rights, But He'll Never Make "Conscious Rap"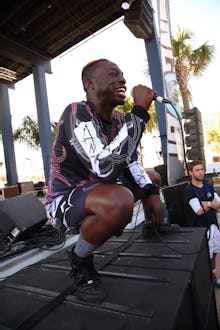 Le1f has what seems like an impossible task for his upcoming studio debut Riot Boi. Trying to translate mixtape fame into a studio album career is difficult enough — many rappers have tried, and many have fallen way short of expectations — Le1f is trying to do so, while adding a new focus on social and political issues. It's hardly a way to guarantee a hit, as years of now-despised conscious raps attest to. However, has studied his predecessors Le1f feels he's found how to make it work.
"Conscious rap didn't last because it wasn't that cool," Le1f tells Mic, sharing his insight so matter-of-factly he can't help but laugh. "It seemed like a challenge to talk about politics over music that's cool. It doesn't happen that often." 
On Riot Boi, it works — against all odds.
The uninitiated listener may not realize Le1f's latest record has deep sociopolitical import until their third or fourth listen. They'll hear the styles that made the 26-year-old rapper a must-hear name in the underground: his quirky production tastes (which earned him his start as the beatmaker for Das Racist's early hits) and his brash discussions of his homosexuality, a rarity in a genre that's surprisingly traditional and conservative.
However, listening to the album's deeper cuts, it's easy to be amazed at the magic Le1f has conjured. He's made some of the fundamentally unappealing subjects in music, such as body dysmorphia and environmental issues, incredibly sexy — all while pushing beats to the experimental vanguard.
Le1f describes Riot Boi as the first record he's truly "proud of." His 2014 EP Hey and previous mixtapes Dark York and Tree House, which were filled with video game references and descriptions of his sexual exploits, were merely "experiments."
"They were me finding my voice not knowing where it was as an instrument," Le1f told Mic. "Now that I've gotten a better grasp on that as a rapper, I wanted to present something that was worth paying for." He's done so by digging deeper with his concepts while diligently avoiding the cliches that makes a lot of politically attuned hip-hop so tiresome.
"I find that often when people want to be a musician putting out a positive message, they're saying things like, 'I'm out here trying to be positive,' but not saying how," Le1f said, describing this variety of conscious rap as "meta music." 
"A lot of that comes from a lack of understanding of the issues and how they affect them and the people around them," he said.
Le1f invested a lot of time digging into the issues he wanted to speak about as a way to avoid this kind of stock spitting. It helps fit in critiques of cultural racism in clever and unexpected ways, such as on "Taxi": "Boys pass me like taxis do." He compares personal and religious histories on "Changes": "I grew up hoping that there was no God, at least not the way they taught us on the Amistad."
He describes his most recent single "Umami / Water," released Monday, as the most challenging to record. A two-part song, the first sings the praises of his good friend transgender DJ, activist and performance artist Juliana Huxtable, while the second deals with environmental issues, specifically water rights.
"I really just wanted to make a song that honored the community and supported it and was fun for the girls, our friends, without being offensive to anyone," Le1f told Mic. "Being in the gay community, I feel there's an ignorance to what is actually offensive to trans people. I didn't want to make a song that eclipsed any issue or showed any kind of misogyny at all. That took a bit of work as a songwriter and a person just to educate myself."
Le1f is highly sensitive to the kinds of exploitation that can come when one community attempts to speak for another. In 2013, he called out rapper Macklemore in a series of since-deleted tweets for ripping off portions of Le1f's "Wut" to craft "Thrift Shop" and for writing a supposed gay rights anthem, "Same Love," without addressing his white, heteronormative privilege. 
"It's one thing to practice something that your parents or your ancestors didn't teach you," Le1f told Mic, speaking on cultural appropriation in general. "It's another to brand something and sell something and monetize it and not credit those who created it. In the arts, I think it's kind of trite to lift a culture in which those artists aren't as fortunate as you to profit from it." 
Le1f's album goes out of its way to highlight his inspirations, like Huxtable, and give credit where the credit is due. He dedicates a third of his track "Grace, Alek or Naomi" to Grace Jones, a star who helped blaze a trail for many portions of Le1f's visual, queer and confrontational artistic style. 
"Obviously a whole generation for artists who I grew up on — M.I.A, Crystal Castles and all the way to Lady Gaga — have a homage to pay to Grace Jones," he said.
These moments of pointed cultural critique and historical recap blend seamlessly with the album's high-energy club bangers. Le1f proves rappers don't need to choose between the turnt and the smart, or the hilarious and the intelligent. "It can be both, like The Daily Show," he offers as a metaphor. "I feel when you can find the ability to complain less and relate more, that's where you really hit the beautiful golden spot," he said. "It can be a song that people want to dance or cry to or get dressed to and still have an ulterior motive and a gay agenda or whatever." When the whole club is screaming out "Umami / Water" and the extremely quotable lyric, "If you don't get intersection, get out of my section!" he'll know he's won.
Le1f's Riot Boi drops Friday.