2015 Fox Business Network Debate: Start Time, Moderators, Channel for GOP Debate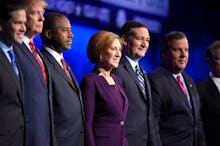 The fourth Republican debate in the 2016 presidential election season will kick off Tuesday night from the Milwaukee Theatre in Milwaukee. The event, jointly hosted by Fox Business Network and the Wall Street Journal, will air across the network at 9 p.m. Eastern and will stream for free via the network's website. 
The debate will feature the GOP's top-polling presidential hopefuls, including real estate magnate Donald Trump, retired neurosurgeon Ben Carson, Florida Sen. Marco Rubio, former Hewlett-Packard CEO Carly Fiorina, former Florida Gov. Jeb Bush, Texas Sen. Ted Cruz, Ohio Gov. John Kasich and Kentucky Sen. Rand Paul.
The debate will be moderated by anchors Maria Bartiromo and Neil Cavuto, who are promising to keep themselves out of the conversation during debate as much as possible, Politico reported. "My goal is to make myself invisible," Cavuto said, according to Politico. Gerard Baker, Wall Street Journal's editor-in-chief, is the other moderator.
"It's so important, more than ever before, to recognize what the point of these debates are," Bartiromo told Fox Business on Oct. 30. "I think the point of these debates in general is to ensure that the voter out there has an opportunity to distinguish all of the candidates, the differences in their economic policy, their foreign policy and also the differences in their leadership style and their governance."
Watch the Fox Business/Wall Street Journal Republican presidential debate here.