Who Is Gerard Baker? A Quick Guide to Fox Business Network Moderator for GOP Debate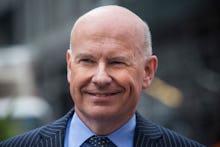 The fourth Republican debate ahead of the 2016 presidential election is scheduled to kick off Tuesday evening at 9 p.m. Eastern. Fox Business Network and the Wall Street Journal will co-host the debate, which will take place at the Milwaukee Theatre in Milwaukee. On the bill of moderators alongside Fox Business Network host Maria Bartiromo and Fox News' head business correspondent Neil Cavuto is Gerard Baker, editor-in-chief of the Wall Street Journal. 
Here's everything to know about Baker ahead of the debate: 
Appointed editor-in-chief of the Wall Street Journal in 2013, Baker has had a long, distinguished career as a journalist. When he stepped into the role, Baker replaced Robert Thomson, who in turn took on a new role as the Wall Street Journal's chief executive. Prior to his appointment, Baker served as the Wall Street Journal's deputy editor-in-chief from 2009 to 2013.
"I am honored and excited beyond words to be given the opportunity to lead the finest team in journalism," Baker said in a press release announcing his move into the role of editor-in-chief. Prior to the appointment, Baker served as the U.S. editor for the Times of London from 2004 to 2009, after working for six years at Financial Times, first as the Tokyo correspondent then Washington bureau chief and finally as an associate editor. 
"It has been a joy and an education to be a member of the Dow Jones newsroom these last four years, and I am acutely conscious of what an extraordinary privilege and profound responsibility it is to be editor-in-chief," Baker said in the release. "I am ineffably grateful to and admiring of Robert Thomson for all he has done for Dow Jones over the last five years. I look forward to playing my part in our continued success.
Baker obtained his master's degree in philosophy, politics and economics from Corpus Christi College, University of Oxford in 1983. Born and raised in Britain, Baker moved to the United States in the late '80s. 
During his tenure at the Times of London, the known conservative came out as anti-Obama.
"I think I have an intellectual capability, I'm no Stephen Hawking, but I can problem solve, work with numbers, articulate words and grasp complex problems," Baker said in an interview with How Did They Do It. "I think what is specific to me is from a really early age I have loved history, loved the news and loved watching the news.
"One of my earliest memories is staying up to watch the 1970 general election result. I was 8."
On Tuesday night, Baker will fire questions at eight Republican candidates: business tycoon Donald Trump, former neurosurgeon Ben Carson, Florida Sen. Marco Rubio, former Florida Gov. Jeb Bush, former Hewlett-Packard CEO Carly Fiorina, Texas Sen. Ted Cruz, Ohio Gov. John Kasich and former Texas Congressman Rand Paul. Head here for a full list of remaining GOP debate dates, start times and moderators.