Vivica A. Fox and 50 Cent Feud Over Rapper's "Gay" Comment on 'Watch What Happens Live'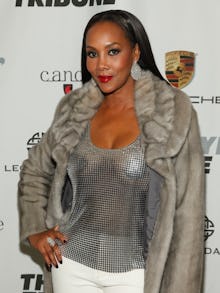 During Sunday's episode of Bravo's Watch What Happens Live, American actress and Empire star Vivica A. Fox sparked a feud with rappers 50 Cent and Soulja Boy. Fox, who dated 50 Cent in 2003, insinuated both rappers were gay in response to a question about a comment 50 Cent made in October, in which he attributed Empire's declining ratings to "extra gay stuff."
"First of all, you know the pot called the kettle black is all I'm saying," Fox said when Watch What Happens Live host Andy Cohen asked Fox to respond to 50 Cent's "gay stuff" remark. The full exchange can be watched here. 
When Cohen pressed Fox on what she was suggesting about 50 Cent's sexuality, Fox said, "No, he's not [homosexual]. He just seems like he's got something that's not quite clear." 
Not one to let an attack go unaddressed, 50 Cent struck back at Fox via Instagram with a steady stream of insults. The posts, often crude, centered on Fox's appearance, her career and her past relationship with 50 Cent. 
Fox later apologized to Soulja Boy via Twitter, but made no such admonition of guilt as far as 50 Cent was concerned.