Starbucks Holiday Cup Controversy: Internet Hilariously Defends Coffee Chain's New Red Cup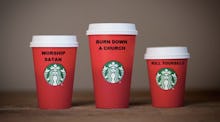 In 2015, there apparently isn't any other debate more polarizing and controversial than Starbuck's red holiday cup. Religious conservatives expressed profound dismay on Sunday over Starbuck's latest holiday cup, whose design eschewed traditional Christmas and winter symbolism for a minimalist look. Some critics went so far as to say they were being marginalized after seeing the company's design (because purposely trashing the world's largest religion is always a smart business model, right?)
Meanwhile, social media users pointed out what many said were the glaring ridiculousness and hypocrisies surrounding the Starbucks holiday cup controversy.
Many who thought the backlash against Starbucks was way overblown used sarcasm to promote the message that an argument about a cup is truly the least important issue of our time.
Other social media users offered their own interpretations of Starbucks holiday cup designs, including one of Jesus and Republican presidential candidate and retired neurosurgeon Ben Carson. 
Vocal opponents to the red cup — which is part of an annual tradition in which Starbucks redesigns its seasonal packaging — said the chain was removing any indication of Christmas trees or decorations because "Starbucks hates Jesus." Social media users who were upset with Starbucks started using the hashtag #boycottstarbucks on Twitter to vent their frustration. 
"Starbucks will continue to embrace and welcome customers from all backgrounds and religions in our stores around the world," the company said in a statement. 
One man devised an idea to trick Starbucks into giving him a religious-themed cup by telling his local barista his name was "Merry Christmas," the Chicago Tribune reported. "Guess what, Starbucks?" Facebook user Joshua Feuerstein said in a video that now has over 11 million views. "I tricked you into putting 'Merry Christmas' on your cup."