This Woman Is Free-Bleeding Outside Parliament to Make a Great Point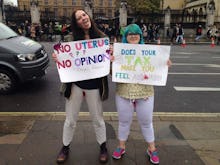 Tampons are not a luxury. While the British Parliament disagrees — and recently decided to uphold a 5% tax on tampons to that effect — one woman is fighting back. Charlie Edge, 22, stood outside Parliament, refusing to use any sanitary products while on her period (or "free-bleeding"), in order to prove just how non-essential these products are.
"Everyone keeps saying 'haha omg how quickly would we get free tampons if everyone stopped wearing them?!'" Edge wrote Friday in a Facebook post. "So, I'm giving it a go. ... Maybe bleeding on their doorstep will get the Tories to do something about this?"
Since Edge started her protest, she has been "getting lots of dirty looks" from passers-by who also yell at her "to get a job," she wrote. But she refuses to give up.
The tampon tax: "It is absurd that while men's razors, children's nappies and even products like Jaffa Cakes, exotic meats and edible cake decorations are free from VAT, women are still having to pay additional costs on what is already an expensive yet vital product," MP Alison Thewliss told the BBC in October. 
The U.K. isn't alone in perpetuating this tax: While most U.S. states allow exemptions for non-luxury items deemed necessities, like groceries, medical purchases or even clothes in some states, state governments rarely include tampons in this list, according to Fusion. In fact, only five states (Maryland, Massachusetts, Pennsylvania, Minnesota and New Jersey) have actively decided not to tax tampons, according to the report.
But many women argue that tampons are not only essential to their daily lives, but the inequitable cost with which they're saddled hardly superfluous. Tampons are expensive: The Huffington Post estimated that the average woman spends $1,773.33 on tampons over the course of her reproductive life.
Evidence of broader sexism: While Edge is notably targeting this specific tax, the problem she's targeting is ultimately much bigger than menstruation.
"I think it's important to note that this isn't just a women's issue — not all women have periods and not all people with periods are women," Edge wrote in an update, People reported. The response to her actions and the issue itself, she continued, points to ingrained sexism and double standards. 
"How would you feel if you were taxed on the disposal of sperm?" Edge mused of the double standard at play. "Every time you released sperm. Every. Time."
What's more, "all the hate I'm getting is based in sexism as is the tax itself," Edge wrote, adding that she can't "help but wonder if there would have been as much hate directed at me and my friends personally if we were young girls."
It's high time, therefore, that archaic double standards surrounding women's periods end — not only on a social level, but political and economic levels as well.
"I get it, periods are yucky," Edge said in her recent post, according to People. "But I've been dealing with them every month for almost 10 years now ... Get over your internalized misogyny quick and grow up."
h/t New York