Massive Sinkhole at the Parking Lot of a Mississippi IHOP Swallows Up at Least 14 Cars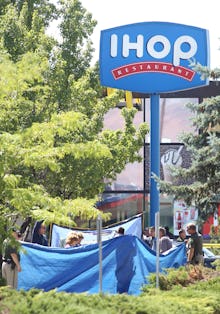 Emergency responders reported to the parking lot of an International House of Pancakes in Meridian, Mississippi, Saturday night after what appeared to be a gaping sinkhole opened in the restaurants parking lot and took at least 14 vehicles with it. Responders arrived to the scene, located at 200 Frontage Road around 7:15 p.m. Central, according to a press release from the office of the Meridian mayor. There were no reported injuries.
According to the press release, the Mississippi sinkhole — a term often meaning a sudden ground collapse caused by water erosion — measured 30 feet wide and 360 feet long. "The cause of the sinkhole is still under investigation, and our primary concern continues to be the safety of our guests and team members," IHOP spokesman Craig Hoffman told CNN. "The restaurant will remain closed until all necessary repairs have been completed." 
Is it a sinkhole or not? Some officials said the term sinkhole could be a misnomer. "I didn't say I wouldn't consider it to be a sinkhole, we've never experienced a sinkhole," Public Safety Director Buck Roberts told WTOK. "I don't know what you call it or what the definition of a sinkhole is. It's a major problem, but I'm not going to call it a sinkhole, I'm not going to call it a cave in, I'm going to call it an accident."
Speaking to WTOK, Meridian Mayor Percy Bland said what responders originally believed to be a sinkhole may have instead been caused by the collapse of an underwater drain, known as a culvert.
On Monday, Bland declared a state of emergency and laid out a two part plan to address the structural integrity of the city's drainage system, in which he pledged "to do everything he could to ensure the public's safety and to work with the owners of the restaurant to get it up and running at the earliest possible date." 
"Despite the weather conditions, we are moving as fast as we can to access the situation and determine the cause of the drainage structure collapse," Bland said in the press release. "Our biggest concern right now is the safety of our citizens." 
Here's footage of the collapse captured from above via LiveLeak: