A Pakistani Orchestra Collaborated With Wynton Marsalis to Play Jazz—And It Sounds Awesome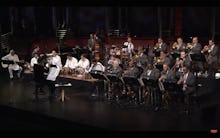 In 1959, when the Dave Brubeck Quartet recorded "Take Five" in New York, the best-selling jazz single of all time, the sitar and tabla were likely the farthest things from the band's mind.
When Baqar Abbas was raised to play and make his own flutes in Pakistan, by a family which had been mastering classical South Asian music for generations, he likely never imagined American jazz — "Take Five" in particular — would propel him to an international stage. 
Yet imagining the improbable has made these worlds converge, culminating in Wynton Marsalis inviting the Pakistani Sachal Studios Orchestra, which includes Abbas, to play with his band at Jazz at Lincoln Center. 
Song of Lahore, a new documentary from Academy Award-winning director Sharmeen Obaid-Chinoy and Andy Schocken, chronicles this remarkable journey from the backstreets of Lahore, Pakistan, to the bustle of New York City. 
What makes this journey even more miraculous is the state of Pakistan's music communities, which the film carefully details. Religious extremism, political volatility and extreme poverty have threatened the country's centuries-old musical traditions. But this group of dedicated individuals is part of a small minority fighting to preserve their cultural history. 
Linking Lahore and Lincoln Center: Pakistani millionaire and philanthropist Izzat Majeed has served as the bridge between the two. He has a passion for music — South Asian music and Western jazz, to be specific. 
Majeed recalled in a 2014 NPR interview being taken by his father to a Brubeck concert in Lahore when he was 8 years old. His love of jazz burgeoned from there.
"'Take Five' was a big hit in Lahore in the '60s," Majeed told NPR. "Nobody knew what it was. It was just a melody and the whole thing, it was just a phenomenal, a fantastic piece of music."
However, military dictator and religious zealot Mohammad Zia-ul-Haq, who seized power in 1977, quashed Pakistan's rich cultural tradition of music, along with other arts, by introducing a ban on promoting music. After he died in 1988, the country's artistic recovery was a mottled one, given the insurgence of the Taliban 10 to 15 years later.
Losing musical culture is untenable to local musicians across the country. According to acclaimed Lahori musician Ali Sethi, music is an inextricable — and important — thread in Pakistan's social and political fabric. 
"Pakistan's traditional music is the greatest proof of its anciently durable culture, a culture that synthesizes beautifully the strains of Persia, Arabia and the Indian subcontinent, and is an antidote to the narrow politics of religion pursued by its state," Sethi told Mic.
To buttress the waning tradition, Majeed decided to start the Sachal Studios Orchestra, a group of classically trained Pakistani musicians, according to NPR. And, like any shrewd businessman, he figured out a way to captivate the world: offer their interpretations of canonical jazz compositions filtered through orientalism.
In 2010, Sachal Studios Orchestra released an album of its jazz covers, and one piece in particular caught the world's attention: "Take Five." The video of the orchestra's cover has almost a million views to date. 
In place of a sultry saxophone, there is a subversive sitar. Instead of a drumbeat which drives the piece along, a tabla adeptly weaves through the music:
Their album ended up topping the jazz charts on iTunes in the United States and United Kingdom.
"The rich strains of Eastern music have for centuries wafted across the rooftops of old Lahore," the Guardian wrote in 2011. "Now you might hear something new: jazzy riffs and a bossa nova beat."
A new direction: Song of Lahore's Pakistani director Obaid-Chinoy is optimistic about the trajectory of music in her country. After decades of being stifled, she believes music is regaining the recognition it deserves. 
"I had grown up listening to my grandfather's stories of a Pakistan where you had musicians that played out on the street and you had cabarets and clubs, and when I came of age, that had died and gone away," Obaid-Chinoy told Mic. "And when I heard about a group of musicians that were trying to revive Pakistan's traditional instruments and were playing interesting melodies and even, in some cases, experimented with Western harmonies, I started researching them and then reached out to them to see if I could document their voices and their stories."
When filming began, no one anticipated the invitation to play in New York, according to Schocken. "The big turn, dramatically, in this film is when the musicians hear, from Wynton Marsalis and Jazz at Lincoln Center, that they've been invited to perform at this big concert in New York City," Schocken explained to Mic.
"These musicians come from a world away," Obaid-Chinoy said. "They don't speak English; they don't even read music the way that people here read music: They count beats. But they're masters of their instruments."
The directors recalled a bumpy adjustment between the Americans and Pakistanis upon first meeting in New York, having emerged from such vastly disparate traditions.
"But come performance day... music is a universal language, and you could see that when the concert began and how seamlessly the two groups of musicians played with each other and how incredible it was to see them go back and forth and the kind of exchanges they had," Obaid-Chinoy said. 
The universal language: The movie is filmed in three languages: Urdu, Punjabi and English. "For an audience member, of course there are subtitles and you're able to understand what they're saying, but when they play music and they express themselves musically, the experience for the audience is direct," Schocken said. 
"It's not mediated. You don't have to read it. You don't have to think about it; you can just experience it," he added. "I think that that helps create this direct bond and experience and rapport with the subjects of the film that you wouldn't have had without music."
Song of Lahore delivers a story of transcendence and humanity, exemplifying music's extraordinary ability to dissolve differences of all kinds.  
"You know, at the end of the day, we're all the same — doesn't matter where we come from," Obaid-Chinoy said. "Once you look beyond a person's language, culture ... music binds us all."