Missouri's Hunger Strike Was the Tip of the Iceberg — Here's What Needs to Happen Next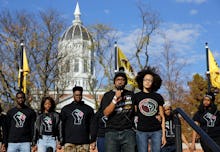 Columbia, Missouri — "Hallelujah!" "Victory is mine!"
With those words, students at the University of Missouri, Columbia, wrapped up a historic day of protest including the ouster of sitting University of Missouri system president Tim Wolfe and University of Missouri Chancellor R. Bowen Loftin at the hands of a monumental movement for racial justice on campus.
Students of all races locked arm-in-arm, heads bowed low, in a remarkable display of unity at a prayer vigil just before midnight led by Concerned Student 1950, the group of student activists named for the year black students were first admitted to Mizzou. The spirit of solidarity is in the air on this crisp fall evening, as students are gathered just steps away from the makeshift tent encampment where graduate student Jonathan Butler risked his life on a week-long hunger strike to demand change from the university.
"We will not let anyone get us down. We refuse to be intimidated."
The seismic nature of the movement leading to Monday's announcement cannot be overstated. "There's a feeling of excitement radiating through the entire campus," freshman student Nnamdi Egwuonwu told Mic. "It feels like a true accomplishment."
Egwuonwu, an aspiring journalist from Atlanta, said he never imagined he would get swept up in campus protests so soon after arriving on campus just a few months ago. "This has definitely been an eye-opener, being a part of everything so quickly into starting college," he told Mic. "Today is a new beginning. I admire the courage of the 1950 activists, and I hope we can continue the conversation."
But while students like Egwuonwu are well-aware they have just made history in the span of only several days, their pain is also on full display, with collective hugs of suffering from a highly polarized and racially charged campus environment that existed long before the media ever showed up, and one that inevitably will not go away once the cameras turn away their lenses.
Wolfe may have resigned, but it is quite clear from speaking with students that the battle for racial justice at Mizzou has only just begun.
A climate of racial tension: Students who spoke with Mic described an atmosphere of racial intolerance that existed long before the media ever found its way to Mizzou.
"Since I've been here, I have not had one uneventful semester that has not been full of racism," Christopher Hamm, a second-year law student at the University of Missouri School of Law and president of the MU Black Law Students Association, told Mic.
Hamm wrote an open letter to the law school last year in the aftermath of the events in Ferguson, Missouri — about 100 miles from campus — to express his disappointment with the administration for failing, in his view, to adequately protect students and address what he describes as a divisive campus climate. "There has been no response from the law school to directly address the issue and what students are saying and feeling," he wrote in the letter provided to Mic. "I pay entirely too much money to be uncomfortable in my own home."
Hamm said he was met with blowback and vitriol from students and alumni after writing that letter, getting called a "nigger," "whiny baby" and "monkey" to his face and also on the anonymous messaging app Yik Yak, which has also featured racially charged commentary after the events of the past several days.
"I wanted to transfer," Hamm told Mic. "I got threatening phone calls. I would never have come here had I known it was like this. This is probably the worst decision I ever made in my life to come to school here."
"I got threatening phone calls. I would never have come here had I known it was like this. This is probably the worst decision I ever made in my life to come to school here."
Hamm is not alone. About 35,000 students are enrolled at University of Missouri-Columbia, of which 17% are racial minorities, according to the school's website. Lost amidst the news of Wolfe's resignation, and the many headlines detailing the Missouri football team's unprecedented use of their economic clout to force collective action, is the much deeper culture of tension that sparked Jonathan Butler to hunger strike in the first place.
As Mic has previously reported, Butler actually began protesting earlier this semester, when he and thousands of graduate students walked out of class after the university announced it was eliminating subsidies to pay for health insurance. The university eventually restored the subsidies, but the climate of tension never subsided.
In September, University of Missouri-Columbia student associations president Payton Head penned a chilling Facebook post which detailed his experience being called both a "nigger" and "faggot" in separate incidents on campus.
Separately, Alexis Ditaway, a sophomore majoring in journalism and minoring in black studies, also described on Facebook getting called a "nigger" by a group of drunk young white men as she walked with her friend on Nov. 6.
In recent years, the campus has been rocked by several other high-profile racial incidents, including a swastika drawn in feces found in a university bathroom and cotton balls found outside the Black Culture Center on campus.
The fight ahead: It is against this backdrop that the events of the past several days need to be understood. When Wolfe got choked up as he announced to the world, "I am resigning as president of the University Missouri system," the university may have turned one page, but it certainly has not closed the chapter of long-held racial tension on campus.
Students say that process will require changing the culture of the school from within. "There needs to be less Yik Yak and more town halls," Hamm told Mic. "Even though the media is going to leave, and even though Jonathan is going to get better, and even though Tim Wolfe stepped down, there are still going to be times where black students go out and walk down the street and get looked at funny. The culture here is so ingrained that this is a long process that may years to recover from."
To start, the university will have to address the host of robust policy changes outlined by student groups such as the MU Graduate Professional Council and Concerned Student 1950, including adding more black faculty and staff, implementing a mandatory diversity curriculum and training and increasing funding for social justice centers and mental health facilities on campus.
In its statement to the university community on Monday announcing Wolfe's resignation, the University of Missouri Board of Curators announced a series of diversity initiatives to be implemented within 90 days, including the appointment of the university's first-ever chief diversity, inclusion and equity officer to help address the racial climate on campus.
But the proof, students say, is in the pudding, and that all starts with the looming decision to appoint a new university system president and chancellor. That choice cannot be made lightly.
"The first step is to find new officials to govern this school," Egwuonwu told Mic. "Our top priority needs to be finding new leaders who are willing to acknowledge the problems on campus."