Today in Donald Trump: Starbucks Is Anti-Christian and It Could Be Time to Boycott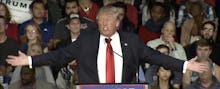 Republican presidential candidate Donald Trump has added his voice to a growing controversy over Starbucks' decision to tone down their usual holiday-themed coffee cups, opting this season for a generic red-and-green alternative. Speaking at a campaign event in Springfield, Illinois, on Monday, the real estate magnate said it may be time for a boycott.
"Did you read about Starbucks? No more 'Merry Christmas' on Starbucks. No more," he said, to audible booing. "I'm speaking against myself. I have one of the most successful Starbucks, in Trump Tower. Maybe we should boycott Starbucks? I don't know. Seriously, I don't care. By the way, that's the end of that lease, but who cares?"
(For the record, Starbucks has no history of using the phrase on its cups. Meanwhile, unsubstantiated rumors have picked up steam across the Internet suggesting that Starbucks has banned employees from wishing customers a "Merry Christmas.") 
Previous holiday versions of Starbucks cups had featured a number of "symbols of the season," which included reindeer and ornaments, according to CNN. The company still sells a number of explicitly Christmas-themed products, including Christmas Blend coffee, Christmas-themed gift cards and this Advent calendar. 
The Starbucks kerfuffle took social media by storm after a video Phoenix resident Joshua Feuerstein made denouncing the company took off on Facebook. In the video uploaded on Nov. 5, Feuerstein, whose website describes him as an "American evangelist, internet and social media personality," urged Starbucks patrons to tell baristas their name was "Merry Christmas," thereby "tricking" the company into writing it on their cups. 
Then, in the spirit of these viral times, he adjured his followers to make their own "coffee selfie" and share his video with the hashtag #MerryChristmasStarbucks. As of this writing, the video has been viewed more than 14 million times, generating more than 175,000 likes and nearly 500,000 shares. 
It's not the first time Starbucks has come under fire for its perceived left-leaning policies. After the company came out in favor of marriage equality, anti-marriage activists from the National Organization for Marriage promoted a "Dump Starbucks" campaign urging a boycott of the company. More than 71,000 people have pledged to avoid the chain. In 2013, Starbucks came under threat of boycott by gun control activists because of a permissive policy toward open carry in its stores. When Starbucks later asked patrons to leave their guns at home, the company faced further boycott threats from defenders of the Second Amendment. 
Elsewhere online, some suggested that Jesus Christ, for his part, would not be much interested in the whole affair, and pointed to a number of causes more worthy of his followers' attentions — like starving children. 
So what would Jesus drink? That remains an open question. But if this year is anything like years past, the "War on Christmas" is only just beginning.