José Reyes Arrested for Allegedly Assaulting His Wife in Maui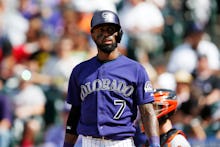 Authorities in Maui arrested Colorado Rockies shortstop José Reyes on Halloween for allegedly assaulting his wife, Katherine Reyes, sources tell Hawaii News Now. According to Katherine Reyes, José Reyes physically abused her during an argument in the couple's Hawaiian resort hotel room.
José Reyes and his wife were vacationing at the Four Seasons Resort Maui at Wailea. After hotel security called the police, Katherine Reyes told responding officers that her husband had dragged her off the bed, grabbed her by the throat and pushed her into the hotel balcony's sliding glass door.
Katherine Reyes was not critically injured though she was taken to Maui Memorial Medical Center to treat injuries to her thigh, neck and wrist, and Reyes was released on bail, according to Hawaii News Now.
A four-time all-star, José Reyes, 32, made his Major League Baseball debut with the New York Mets in 2003 where he played for nine years. He has since since played for the Miami Marlins and the Toronto Blue Jays. His current contract with the Rockies has him earning $44 million over the next two years. 
Around the time of the alleged assault, Reyes had been posting vacation photos on his Twitter account.
In a Tweet early Tuesday, Rockies management said they were "extremely disappointed and concerned" about the alleged abuse and pledged to investigate the matter further. In August, the MLB instituted a new domestic violence, assault and child abuse policy, USA Today reports. Reyes could become the first player to face sanctions under the policy.