What Channel Is Fox Business? Listings and Start Time for Tuesday's Republican Debate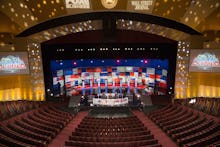 On Tuesday night at 9 p.m. Eastern, eight Republican candidates will gather onstage at the Milwaukee Theatre in Milwaukee to duke it out in the fourth Republican presidential primary debate. Viewers can watch the debate live online for free via a live stream on the Fox Business website. Cable subscribers can find a list of Fox Business channels by zip code here.
On stage for the main debate are the GOP's top polling candidates: business tycoon Donald Trump, former neurosurgeon Ben Carson, Florida Sen. Marco Rubio, Texas Sen. Ted Cruz, former Florida Gov. Jeb Bush, former Hewlett-Packard CEO Carly Fiorina, Ohio Gov. John Kasich and Kentucky Sen. Rand Paul. According to the Huffington Post's most recent figures, Trump has reclaimed his lead in the polls with 27%, followed by Carson at 21.9% and Rubio at 10.9%
Fox Business Network anchors Maria Bartiromo and Neil Cavuto will moderate Tuesday's debate, joined by the Wall Street Journal's editor-in-chief, Gerard Baker. The evening will focus on six core topics centered around the economy, per Fox Business: stunted wage growth, boosting high-tech skills, corporate tax reform, interest rates, energy policy and climate change. (Expect to hear the candidates take on the subject of the Keystone XL Pipeline which President Barack Obama's administration rejected last week).
Prior to the debate, an undercard debate featuring New Jersey Gov. Chris Christie, Louisiana Gov. Bobby Jindal, former Pennsylvania Sen. Rick Santorum and former Arkansas Gov. Mike Huckabee (all of whom polled below the required 2.5% threshold necessary to participate in the main event) will take place at 7 p.m. Eastern.
Twitter users can participate in the conversation by using the official hashtags #FoxBusinessDebate and #GOPDebate.
Correction: Nov. 10, 2015